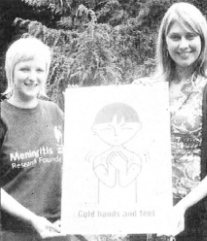 MENINGITIS Research Foundation will be holding events to highlight Meningitis Awareness Week from September 15 to 21 and the symptoms of the condition and help save lives.
Every month nine people in Northern Ireland become ill with meningitis which can cause death or life-altering after effects as severe as brain damage, deafness and multiple amputations.
To raise awareness and save lives, Sarah Travers is supporting Meningitis Research Foundation during Meningitis Awareness Week to warn of the dangers of meningitis and septicaemia.
Devastating
Sarah recently told the Foundation: "Meningitis and septicaemia are devastating illnesses and I would encourage everyone to B Aware of the symptoms ."
Meningitis Research Foundation's Northern Ireland Manager, Diane McConnell commented: —Meningitis and septicaemia can affect anyone and within just a few hours leave a baby, child or adult fighting for their life. Knowing the symptoms and acting fast will save lives."
Free B Aware symptoms packs are available through the Foundation's Freefone 24 hour helpline - 080 8800 3344.