by NEIL GREENLEES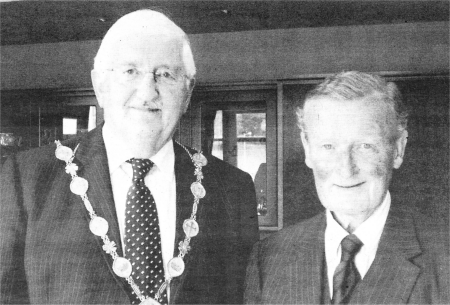 The Mayor Councillor Ronnie Crawford with Major-General Corran Purdon.
THE Mayor Councillor. Ronnie Crawford recently welcomed a Military Cross recipient to Lagan Valley Island.
Mr. Crawford described Major-General Corran Purdon as one of the greatest individuals' he had ever met.
Born in Co. Cork in 1921, Corran Purdon was commissioned into the Royal Ulster Rifles in 1939.
' He volunteered for the Commandos and received the Military Cross for his part in raids on Norway and perhaps the most daring allied raid of World War 11 on St. Nazaire. where he was wounded and captured.
However, he escaped from Spangenberg PoW camp, where he was imprisoned, and was on the run for 10 days before being recaptured and transferred to the notorious Colditz prison, where his companions included Airey Neave and the amputee air ace Douglas Bader.
Upon release, he enlisted and served with the American army until he returned home. Major General Purdon subsequently served in Palestine, Suez, Malaya and Cyprus. During the Dhofar war he commanded the Sultan of Oman's Armed Forces, where he was awarded the Bravery Medal for 'outstanding courage and leadership under intense fire'. He was also awarded the DSM and Commendation Medal for bravery on operations.
Speaking after the meeting Mr. Crawford said: "It has been an immense privilege to meet a wartime hero with such a distinguished record of service. He was one of a dwindling band of survivors of the notorious Colditz prison, and I commend him for the courage he has shown throughout his career."