Duo to follow part of famous cycle race
by NEIL GREENLEES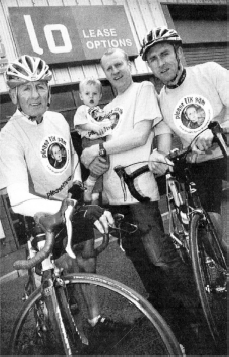 TWO businessmen are to follow the route of part of the world's best known cycling event to help finance the battle against Muscular Dystrophy, the condition which threatens the future of many young children and teenagers including Hillsborough toddler Sam McCausland.
Paul McGuire of Lease Options and his friend and client Wes Kettyle from Cooke and Kettyle Quantity Surveyors will participate in a gruelling 179 kilometre stretch of the Tour de France to raise funds for 'pleasefixsam', the charity set up to raise money for research into the disease by the little boy's mum and dad Tracy and William.
Like parents all over the world the couple are desperate to find a cure for the progressive muscle wasting condition, the victims of which are predominantly boys.
Paul and Wes have been preparing for their trip for some time and stressed while 'participating in the event' they are 'not actually competing in it'.
They have chosen a stage in the Pyrenees during which they will cycle from Pau to Hautacam.
It incorporates two of the Tour's most notorious climbs - the 23.4 kilometre Tourmalet and the 'finish climbing' which is just over 1.5 kilometres high.
The two friends are no strangers to fund raising cycle rides as Paul explained: "A number of years ago we cycled from Fairhead in Cork to Mizen Head in Donegal in 24 hours to raise money for the Children's Hospital at the Royal, but the Tour de France has been a longstanding ambition for both Wes and I," he added.
"We are both delighted that we're able to combine our ambitions while at the same time help raise the profile of the 'pleasefixsam' campaign for Struggle Against Muscular Dystrophy (S.A.M.).
Tracy said when she and William found out Sam was suffering from the disease they 'couldn't believe the pitiful lack' of funding available for research.
"So with help from our family, friends and colleagues, we've set up our own charity in his name," she added.Tracy stressed there are "no salaries, no overheads and no costs. "Everyone involved gives their time, skills, products and services for free so that we can guarantee every single penny raised will go straight into the hands of the researchers," she added.
"We're grateful to Paul and Wes and will be following coverage of the Tour on TV to see how they get on."