by MARY MAGEE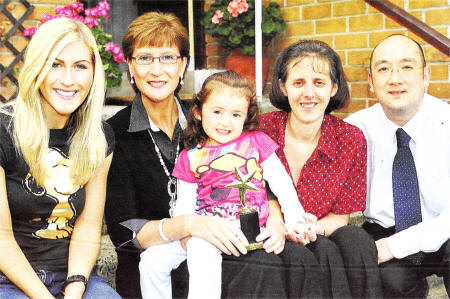 Valerie Doak with little Rebekah who she child minds for parents Martin and Anne Pollock. Also included is Valerie's daughter, Amanda Doak. US3809-552CD
A LISBURN childminder has been crowned Northern Ireland's Supernanny. Valerie Doak, who was recovering from breast cancer while looking after toddler Rebekah Pollock who suffered from a spine condition, won the Big Into Baby and U105 supernanny competition at the Odyssey.
Rebekah's mum Anne, whose husband Martin had put Valerie's name forward for the competition, explained why.
"I just feel that childminders do not get the recognition they deserve," she said. "Valerie adores children and she has helped our family in so many ways. "When we interviewed her for the job it was important we chose someone we felt comfortable with and that Rebekah would be in safe hands. She was crying at the time and Valerie went out and got some medicine. I knew then - if someone goes to those lengths then I want her to mind my child.
"She is such an inspiration and a lovely person and really deserves this prize.
"I fractured my ankle and had to ring her to see if she could, keep Rebekah for a while. She not only kept her on but gave her her tea as well."
Anne continued: "Valerie really is one in a million and am so proud of her. I have never met anyone so dedicated to their work and she never complains. Even if Valerie hadn't won the title she will always be regarded as Supernanny to us." Valerie who went to the Odyssey last Saturday with friend Eileen Graham said: "I really wanted to win the family portrait because after all these years I always wanted a family portrait and my husband Bill has always refused. He has no choice now."
Other prizes she won included a luxury weekend break, beauty products, cinema passes and £500 worth of of vouchers.