Glenn Patterson's new book 'Once Upon a Hill'.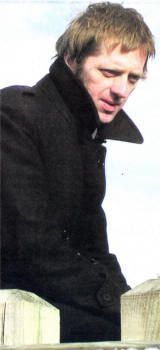 ONCE upon a hill in Lisburn lived Jack and Kate Patterson. Then in 1920 events over which they had no control had a traumatic affect on their lives.
Now the story of their love, their lives and the riotous turmoil that descended on that little hill have formed the basis of renowned author Glenn Patterson's new book which will be launched in Lisburn on Tuesday.
It is said that the course of true love never runs smooth but some people have more obstacles to overcome than others. That was certainly the case for Glenn's grandparents on whom the book is based.
Their love crossed the religious boundaries, Jack was a Protestant and Kate a Catholic, and they had to wait ten years before they could marry because Jack's formidable mother had forbidden it.
And even when they wed, such was the disapproval that Kate lived in Chapel Hill and while Jack stayed in Antrim Street.
Then chaos came to the town and riotous fires swept through Lisburn during vicious sectarian rioting. Glenn has spent four years researching the early years of the twentieth century and the affects on his own family for 'Once Upon a Hill: Love in Troubled Times' and produced a book that is more than just the story of his grandparents, it is the story of Lisburn and a town torn apart.
"The book is essentially about my grandparents, who lived in Antrim Street, but it's not only about them, its about their times and by extension it is also about Lisburn," explained Glenn, who also lived in Lisburn in the late 1980s when he was a Writer in Residence.
"It is also about me" he continued. "There is a lot about my relationship with my grandparents, who both died in the 1970s, and my relationship with Lisburn."
Glenn will be launching his book at Lisburn City Library on Tuesday September 9 at 7.30pm. All are welcome though booking is essential. Anyone interested should ring Lisburn City Library 9266 9345.
*To read more of the interview with Glenn Patterson, log onto www.lisburntoday.co.uk