Thrills in store for the 16th Hillsborough International Oyster Festival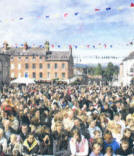 IT'S the final countdown to one of the biggest events on the Northern Ireland calendar - the Hillsborough International Oyster Festival. The annual event, now in its 16th year, includes fun and entertainment for all the family and runs from September Thursday 4 to Saturday 6 with a pre-Festival event on Sunday August 31.
This year, 'Super Dream Car Sunday' adds an adrenaline-pumping touch of class to pre-Festival events.
The village will host some of Northern Ireland's most luxurious cars; these will include Aston Martins, Lamborghinis, Ferraris and many more.
This very popular family day isn't just for fathers and sons as everyone gets a chance to buy a spin in a thrilling super car. Thursday will see a bigger and brighter Debenhams fashion show in the Festival marquee, while those who don't mind getting wet compete in the Canadian Boat Race on the Lake in Hillsborough Forest Park.
Attraction
Also in the Forest Park, a brand new attraction will see teams battle it out in a gruelling Tug-O-War.
The nearly-invincible Northern Ireland Tug-O-War team will guarantee strong opposition to any team brave enough to take on the challenge!
Chances
Amongst those who fancy their chances are teams from the Belfast Giants, the Ulster Rugby Squad and even the Hillsborough Young Farmers.
Later that evening in The Plough Court marquee, those with a strong constitution are invited to watch the final of the Northern Ireland Oyster Eating
Championship. Eight courageous entrants from all over the Province will race against the clock to win the title of NI champion.
Biggest
As always, Saturday is the biggest and most popular day of the Festival. event with the regular market trading in the Festival marquee happening with an on-street carnival in the Fort Field behind The Plough Inn. For thrill-seekers there will be a new track for the very successful Soap Box Derby on the Main Street.
Get your entry in now as spaces are limited.
As always, the highlight of Saturday Afternoon sees the World Oyster Eating Championship Finals, a sight not to be missed.
A live band and BBQ in the marquee on Saturday evening finishes what should be a fantastic Festival for all ages. The event for 2007 raised £45k for Charity and with continued support from our sponsors organisers hope to beat that amount this year.
You can visit the website for further details www.hillsboroughoysterfestival.com