by JULIE ANN SPENCE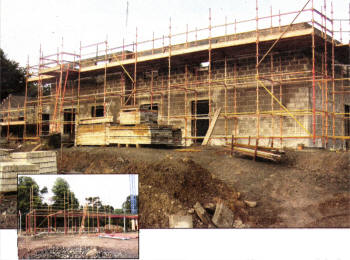 WORK on Lisburn's first city centre hotel well underway and is on schedule to open its doors in 2009.
The hotel will be a Premier Inn, managed by Whitbread Plc, one of the largest hoteliers in the UK. Mark Adams, Whitbread's Acquisition Manager for Ireland, said work on the Hillsborough Road hotel was progressing well and was on course to open in the summer next year.
The builder went on site at the end of June and completed site enabling work," explained Mr Adams. "Work on the hotel block is well underway and the metal frame for the restaurant is also up.
"Things are on track and we are hoping to be open in summer 2009 and if we can open sooner than that, we will."
The Premier Inn Hotel, the first city centre hotel for Lisburn, will bring around 60 jobs to the city and represents an investment of £5million.
The hotel, one of several Premier Inns opening across the Province in the next year, will include 60 bedrooms and a 200 cover family orientated 'Table Table' restaurant.
In addition to the Lisburn hotel, Whitbread recently opened a Premier Inn in Coleraine, have acquired a site for a new hotel in Newtownards and are planning to open their new Belfast city centre hotel next month.
"We are delighted to be coming to Lisburn," continued Mr Adams. "This is something different for the city. This investment augurs well for Lisburn and we are looking forward to opening."
The foreman at the site said he expected construction to be finished around Christmas when it would be 'handed over' for final fitting.