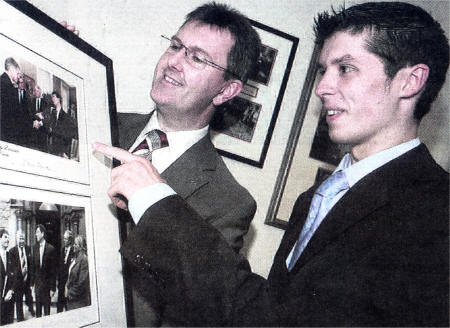 Ben Mallon who is going to the Republican Party Convention pictured with Jeffrey Donaldson.
A BUDDING young politician from Stoneyford will jet off to America this weekend to attend the Republican Party Convention.
Benjamin Mallon, 19, a student at Stranmillis University College, is one of two candidates from across the whole UK invited to attend the major US Presidential Conventions in election year.
The Washington Centre, a US Educational Foundation, via the US Embassy in London, selected the students.
"I am really looking forward to it," said Ben who will go to the Republican Party Convention in Minneapolis.
"During the week I have been asked to address approximately 150 Senior Party officials on the topic of youth participation in political decision making and this is will be a brilliant experience," he added.
Lagan Valley MP Jeffrey Donaldson congratulated Ben and described it as "quite an achievemnet for a young person from Northern Ireland to be selected to take part in this highly prestigious political event."
"We are always trying to encourage more young people to take part in politics," said Mr Donaldson.
With a passion for politics this will surely prove an historic and momentous occasion for the local man who is a member of UK Youth Parliament and has considerable responsibilities as a member of the NI Youth Forum and Belfast City Council Youth Forum.
Ben explained that during the convention the students volunteer for convention-related assignments and attend convention receptions and rallies.
Topics include the history of political campaigns and conventions, the nomination process, convention planning and procedures, party organisations, campaign finance and media coverage.
The second week focuses on campaign issues and strategies and other important political topics climaxing in the formal nomination of Presidential and Vice Presidental candidates.