Film of all our yesterdays now on show at Lisburn library
by NEIL GREENLEES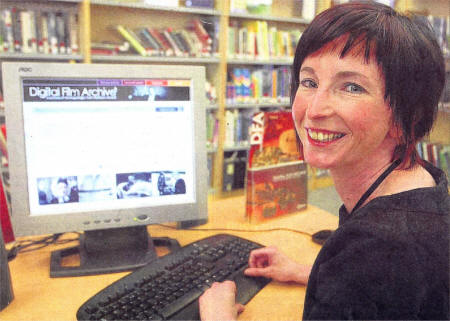 Julie Reid of Lisburn Library at the new Digital Film Archive in the Lisburn Library. US3108-106A0
SOME of the earliest footage filmed around Lisburn can now be viewed in the city's library. The library in Linenhall Street has become the latest public building to provide access to Northern Ireland's Digital Film Archive which has moving images spanning more than a century.
Several films relating to Lisburn will be of particular interest to local people.
Some of these date from 1897 and were shot by the French Lumiere Brothers during a journey between Belfast and the ferry port of Kingstown (now Dun Laoghaire) just outside Dublin.
One of these short films was taken at Dunmurry and another in Lisburn itself. The two brothers' work also features footage of Castle Place and Queens Bridge in Belfast as well as the Sandymount area of Dublin.
The archive includes seven minutes of footage from Lisburn Shopping Week in 1930 and the well known film 'Our Town' which shows local life during the 1950's.
Naturally, Belfast features prominently in the archive with a great number of street scenes spanning many decades.
A 1959 report on Smithfield Market by well known local TV reporter James Boyce should bring memories flooding back as should scenes from the city's harbour shot in 1954.
There's also 18 'Ulster Mirror' programmes made between 1954 and 1956 covering various aspects of life in Northern Ireland.
Ireland's volatile political situation during the early years of the 20th century is covered extensively in the archive as is the turmoil experienced in the North following partition at the start of the 1920s.
The period from the late 1960's known as The Troubles' has provided the Archive with a large amount of material including newsreel and documentaries. However, other aspects of life during this period are also featured including the DeLorean saga and documentaries such as The Hobby Horse Man' (1973) about Mickey Marley's Roundabout and 'Betjeman's Belfast' (1976), a programme about the city's architecture. The Manager of Lisburn Library Julie Reid said the archive was searchable and easy to use.
"It's available to anyone using the library and staff are happy to help," she added.