by JULIE ANN SPENCE
Former mayor hands over biggest ever cheque to charity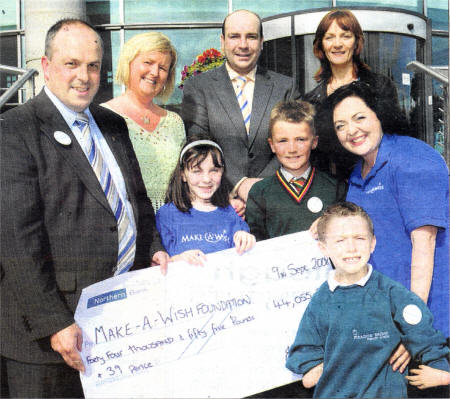 Cllr James Tinsley, Gaye Kerr, Paul Stewart, Caroline Campbell, Lydia Campbell, Adam Kerr, Lesley Johnston, Brian Kerr
THE largest ever donation to the Make-A-Wish Foundation was handed over this week by former mayor of Lisburn, councillor James Tinsley.
The money was raised by residents and groups across Lisburn on behalf of Mr Tinsley, who chose the MakeA-Wish Foundation, which grants magical wishes to children and young people fighting life-threatening illnesses, as his Mayoral Charity last year.
Thanking all those who had supported his Mayoral Charity, Councillor Tinsley said: "I am overwhelmed by how much money has been raised and by the spirit and generosity of individuals and businesses from right across the City area and I'd like to express my heartfelt thanks.
As a father I cannot even imagine the difficulties that are faced by the families that Make-A-Wish supports but I am deeply moved that this money will provide once in a lifetime wishes and much treasured memories to young people and their families living with so many uncertainties."
One such family to have benefited from the Make A Wish Foundation is the Kerr Family from Moira.
Gaye Kerr wanted to thank the Mayor personally for all his help raising funds for the Charity after her son Brian, 6, was granted his wish to visit Euro Disney. This adventure turned into the holiday of a lifetime for the Kerr family, and Gaye continues to raise awareness about the work of Make-A-Wish. "We are overwhelmed by the hard work and continued support that Councillor Tinsley has given us over
the past year. We had hoped to raise lots of money in the Lisburn area, but the generosity of local people has been amazing, and we would like to thank everyone who was involved in raising this fabulous amount for Make-A-Wish Foundation UK," said Gaye.
Brian was on hand to help Mr Tinsley hand over the cheque for the total of £44,059.39 to Lesley Johnston, Northern Ireland Regional Manager of Make-A-Wish Foundation UK.
Lesley Johnston, Regional Manager NI for Make A Wish said: "Last year we granted 36 magical wishes in Northern Ireland, for local children like Brian, and this year we are on target to grant 50 wishes. But we cannot do this without wonderful fundraising activities, such as the Lisburn Half Marathon and the Mayors Ball, which all helped to raise such a staggering amount." If you would like to know more about Make-A-Wish Foundation UK please contact Lesley Johnston on 9080 5580, e-mail: nireland@makea-wish.org.uk or alternatively log onto www.make-a-wish.org.uk.
See: Lydia's generous birthday donation