by JENNY MONROE
THE CROWDS at the Hillsborough Oyster Festival will be looking to the skies next Saturday when the world-renowned RAF Aerobatic Team, the Red Arrows, will fly past.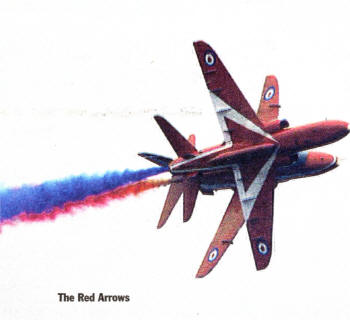 The fly over is a great coup for the festival as the team receive more than 300 requests for Red Arrow displays each year but only 80 can be fitted into the team's summer programme.
It is envisaged that this will attract a greater number of visitors to the event and raise more money for the nominated charity, Action Cancer, to help them save lives and support people affected by cancer in Northern Ireland.
The fly by will take place early in the afternoon after the Red Arrows complete their display at the Northern Ireland International Airshow.
There will also be an historic RAF Dakota flight involving aircraft used in the second world war.
This is an additional 'wow' factor to the festival's main day which literally has something for everyone.
The famous Soap Box Derby takes place from 12.45pm along with children's fancy dress, a craft market and an on-street carnival in the Fort Field behind the Plough Inn. As always, the highlight of Saturday afternoon is the World Oyster Eating Championship Finals, a sight not to be missed.
Action Cancer will also be holding a children's fun dog show on Saturday to make the festival more family orientated.
The show will take place at 2pm at Hillsborough Fort and all dogs are welcome. Entry is £1 with the chance to win some great prizes and every dog will receive a goodie bag. For more information please ring Kyla on 028 9080 3344.
A live band and BBQ in the marquee on Saturday evening finishes what should be a fantastic festival for all ages.
This is the second year that the Hillsborough Oyster Festival has supported Action Cancer, Northern Ireland's leading local cancer charity.
Last year's event raised £45k for the local charity's life-saving detection and support services and, with continued support from sponsors, organisers and the community, the Festival hope to again reach or smash that target in 2008.