by NEIL GREENLEES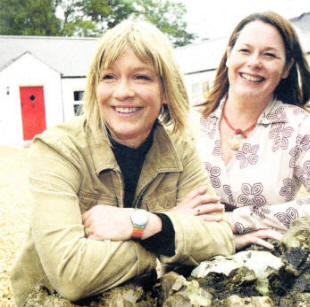 LISBURN'S Rural Regeneration Programme which to date has provided £681,000 of funding to a variety of projects has been described as 'an outstanding success story' by Northern Ireland's Rural Development Minister Michelle Gildernew.
The Minister was speaking during a visit to one such project, Kilwarlin Cottages at I Hillsborough. These recently constructed units provide five star self catering tourist accommodation.
Ms. Gildernew said the cottages were 'a great example of rural development in action and an impressive farm diversification project that helped address the economic, social and tourist needs of the area.
She also warmly congratulated Lisburn Leader Ltd, the organisation responsible for administering the Programme, and its Vice-Chairman Pat McCann who was present at Kilwarlin during her visit.
"Lisburn Leader has acted as a catalyst in developing small rural businesses. I want to take this opportunity to thank them for all their hard work to ensure the maximum impact of funding available," the Minister added.
Mr. McCann told those present his organisation had "successfully administered 100% of the allocated budgets on good quality projects from the Lisburn rural areas.
"Full advantage of £681,000 funding for our rural economy has been achieved, and I wish to put on record my thanks for the enthusiasm and commitment that my fellow directors and the Council have shown in the delivery of this funding for rural Lisburn," he said.
The fundamental aims of the Rural Lisburn Regeneration Programme were to encourage rural business development and diversification, promote new employment opportunities in the rural Lisburn area, increase farm income levels and provide training programmes for the rural community in order to enable the uptake of development opportunities.
Over £500,000 was invested in 16 projects across a range of different business initiatives, including accommodation facilities, equestrian, fisheries, workspace units, memorial gardens and a visitor signage scheme.
The rest of the money was used to fund an international marketing awareness programme and training on small business development including environmental and marketing support training.
Ms. Gildernew said small rural businesses could "make a significant contribution to the economy in terms of generating wealth and creating employment.
The Minister also said the new Rural Development Programme for 2007-2013 provided opportunities "to build a more sustainable rural economy and improve the quality of local life.
'I hope that rural dwellers living in these areas will be able tout to good use the opportunities provided by the programme," she concluded.