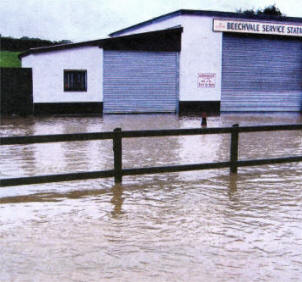 ONE local resident has described how her neighbours were forced to abandon their homes after the floods last weekend.
Wendy Jenkinson, who lives in Benvisteen Park, off the Moira Road, said the area had been under three feet of water throughout, which you would "need a boat to get out" from. Wendy explained that the area apeared to be fine following Saturday's deluge, however overnight the nearby River Lagan burst its banks and many residents saw their homes destroyed.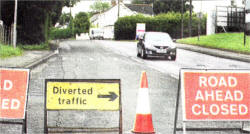 "Two people have already had to abandon ship," said Wendy, "and the DOE took an elderly couple out. There are homes already ruined, if the rain doesn't stop I don't know what will happen.
"The DOE delivered sandbags on Sunday and said they would come back, but they didn't. They said the water is coming from the river and that it would be a waste of time to get the lorries in to suck the water up as it will just keep coming."
Wendy continued: "The water is filthy, there are planks of wood floating about in it. I have been here 18 years and this is the first time I've ever seen anything like this, but with the amount of rain that fell I'm sure a lot of places are just the same."
Wendy said she intends to sit it out and wait until the water recedes, despite losing some power in her home.
"Some of our electricity is off, there are some lights and sockets not working, but you just have to make do," she said.
"I asked my neighbours if they needed any help, but it was already too late. They live in a bungalow and there was about six inches of water in their living room, their home is just ruined."
Three elderly people left stranded by water rats
THREE elderly people in Dunmurry were left stranded when the car they were travelling in got stuck in a flood and was then stolen by what they first believed were good Samaritans.
The elderly man was driving his new blue Renault Laguna car on the Stewartstown Road when his car got stuck in a flood around 6.40am on Sunday morning. The registration number for the vehicle is VLZ 1788.
Two young men came to their assistance and were able to get the vehicle out of the flooded waters.
But the so called 'rescuers' then refused to get out of the car or hand over the keys and made off in the vehicle in the direction of McKinstrys Roundabout, leaving the elderly trio stranded.
One of the thieves was described as tall, thin with dark hair and wearing a dark top.
The second was small with blond hair and he drove the car.
Anyone who can assist in identifying these criminals or can provide details on the whereabouts of the stolen Renault Laguna is asked to get in touch with police. They can be contacted on 08456008000 or use the Crimestoppers number which is 0800-5006000.
| | | |
| --- | --- | --- |
| | | |
| This gives some idea of the amount of water lying on the roads in the Lurganure area after the weekend downpours. | The Lagan tributary causes flooding near the Bumhouse, Lisburn last weekend. Pic by Robert Wilkinson. | The flooded footpath and cycletrack at Laurelhill, Lisburn Pic by Robert Wilkinson |
Council ready to help people claim emergency payment
PEOPLE living in the Lisburn area who have been affected by flooding are being urged to contact the city council to help them get access to the Northern Ireland Executive's emergency payments scheme.
Environment Minister, Sammy Wilson, announced that he is making available an emergency payment of £1,000 to householders whose homes were damaged
by last weekend's floods. Those affected in the Lisburn City Council area who wish to make a claim should contact the Environmental Health Unit, Lisburn City Council, as quickly as possible on tel: 9250 9250, email: ehealth@lisburn.gov.uk or fax: 9250 9378.
These payments, when verified, are totally separate from insurance claims and will be regarded as 'hardship' pay-
ments intended to help people get back on their feet and assist them in ensuring their homes are habitable.
A council spokesperson said council Officers will make every effort to respond to households affected by flooding as soon as possible.
They also say that householders intending to make a claim against their household insurance for damage caused by flooding are advised not to dispose of any damaged property before contacting their insurance company.
"The Council will do everything it can to ensure that the key agencies with responsibility for dealing with flooding incidents and the clean up afterwards fulfil their duties in terms of providing sandbags, emergency accommodation" said the spokesperson.
Archer calls for effective strategies
LISBURN Councillor David Archer has called on government agencies to develop effective strategies for future floods.
Speaking after the torrential downpours at the weekend, Mr Archer said: "Almost without exception in each of the most recent occasions of flash flooding in the Province we hear stories of people not being able to obtain sandbags or in some cases having to fill their own. "People who telephone for assistance when experiencing difficulties are often shunted around various government agencies due to a lack of cross-departmental planning and co-operation. "The Northern Ireland Executive has got to wake up and realise that this type of freakish weather is becoming an all too regular occurrence and develop effective strategies to enable the community to cope with the consequences of flash flooding."
Free of charge MOT tests to weather affected motorists
LISBURN motorists unable to attend vehicle or driving tests due to the torrential rain last Saturday will have their appointments re-scheduled free of charge.
The Driver and Vehicle Agency (DVA) this week announced it would rearrange MOT tests free of charge for motorists affected by the severe weather.
A DVA spokesperson said: "We recognise the difficulty many customers faced due to the adverse weather conditions on Saturday 16 August. "Therefore we are urging customers who were unable to attend for their vehicle or driving test to contact the test centre involved where their appointment will be rescheduled free of charge." DVA urged motorists who need reappointments to call their local test centre where their appointment was booked and ask for the centre manager to issue them a free test.
'Where were the army'
DEPUTY Mayor Alderman Edwin Poots has questioned why the army were not called in to help in rescue operations following the flooding. As local people waited for Roads Service personnel to deliver sandbags to prevent their homes from being destroyed, Mr Poots asked why troops were not asked to help in the operation.
Mr Poots said: "Were the army not asked to help? And if not, why not? They would normally step in to help in these sort of situations."
In response to Mr Poot's query a DRD spokesperson said that the involvement of the army in times of crises was a decision for the PSNI rather than the department.
`Gritters should be delivering sandbags'
LISBURN Councillor Brian Heading has suggested the Roads Service should use their gritting vehicles to distribute sand bags to areas at risk of flooding.
Mr Heading said, "We've all heard the news reports of people unable to obtain sandbags from Roads Service depots over the weekend and that is disgraceful.
"There must be many lessons learnt by the flooding and in future Roads Service could deploy their gritting vehicles for distributing sand bags to vulnerable households."
A DRD spokesperson said: "There is a multi-agency response to flooding, and this includes the distribution of sandbags.
"In the event of extreme heavy rainfall situations Roads Service aims to effectively deploy its available resources in order to maintain road safety and protect property where possible"