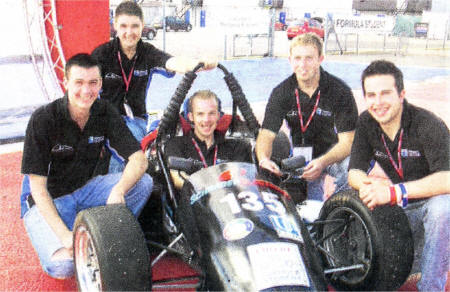 L-R at the 'Formula Student' event in Silverstone is the University of Ulster team Chris Robb from Nutts Corner, Brian Matthews from Crossgar, Ronan Lavery from Glenavy (Team Captain), Andrew Boyd from Coleraine and Sean Connolly from Newry. Steven Robb from Nutts Corner is missing from the photo.
LOCAL student Ronan Lavery is gearing up for the challenge of a lifetime when he takes on competitors from over 80 universities at Hockenheim, the home of German motorsport, in the 2008 Formula Student Germany Championship this weekend.
Ronan, who hails from Glenavy, has been the team captain in his first year involved in the competition, and he is excited at the prospect of finishing the team's championship in style at the legendary circuit.
Engineering student Ronan, a former pupil at Rathmore Grammar, will lead his team of six from the University of Ulster as they pit their wits against fellow students from across Europe.
The team has recently returned from a successful outing at Silverstone and are hoping to go one better when they take part in the four-day contest in Germany.
Ronan said, "We did reasonably well in Silverstone. The competition takes on a number of different challenges - racing, written skills and a presentation -, and it was the first time that we have done everything which was a plus. Unfortunately our engine wasn't running well, but we have had a lot of work done on it and we're ready for the challenge."
Supported by the University and local engineering company, Schrader Electronics, in their quest to become the 2008 Formula Student Germany Champions, the students have designed, built and raced a single-seater racing car.
Ronan, who will captain the team once again next year, added: "This is a fantastic project which challenges students to work as a team and to put the skills taught in lectures into practice. I would like to take this opportunity to thank Schrader for their support in this project as it enabled the team to travel to the competitions."
Speaking about participating at Hockenheim, Ronan concluded, 'It's quite exciting, it is the home of German motorsport so we're looking forward to it."