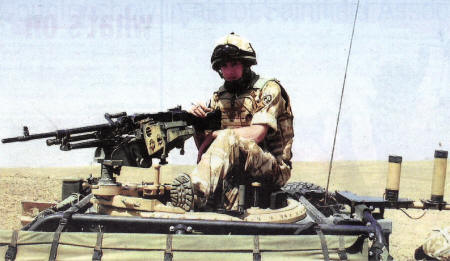 Phillip on patrol in Afghanistan.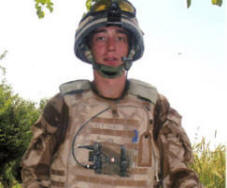 A LISBURN soldier has spoken of how he narrowly escaped death after he was hit in the chest with a Rocket Propelled Grenade (RPG) in Afghanistan earlier this month.
Royal Ranger Phillip Stout, who is on deployment with the Royal Irish Regiment, miraculously survived the blast during the attack in Helmand province on August 6.
In what he described as a "close call", Phillip said that his body armour had taken all of the damage.
Phillip, a former pupil of Brownlee Primary and Lisnagarvey High School, was part of a foot patrol that came under attack from insurgents, which left him with cracked ribs and bruising to his chest.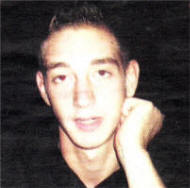 Speaking from the Royal Irish base at Camp Shorabak in Helmand, Phillip said: "We were at the PB (patrol base) when the ANA (Afghan National Army) were out on their routine patrol and radioed through to us say Taliban had been seen in the area.
We came into direct contact with them in an open field — it was in an area south of Musa Qal'eh.
"In a split second something hit my chest and I blacked out for a time. My Osprey body armour took all the damage."
Phillip paid tribute to his comrades who battled for more than an hour to bring him to safety. He added: "Fortunately no one else was injured. It was a lucky escape but it's one of those things."
Speaking to the Star this week, Phillip's mum June said that she only found out about the incident when Phillip, who turned 22 last Saturday, called her on Friday August 8.
June said: "He phoned me after it happened, but he played it down as he didn't want me to worry. Phillip had told the army that if anything happened to him not to contact me, that he would contact me when he was well enough.
"He called to tell me something had happened and he said he was out of the ward and in a place to rest, so he was letting me know that he was out of danger. He doesn't tell me everything because he doesn't want me to worry, so I'm still finding out bits and pieces from his girlfriend Sarah."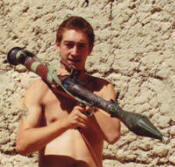 June continued: "He was hit with an RPG and was airlifted to hospital. He had cracked ribs and bruising to his chest and they kept checking his blood levels, I don't know whether that was for gases or something."
June described the feelings she and Phillip's siblings Mark, 19, and Rachel, 15, have. 'We're very proud, certainly," she said. "It is a worrying time, I can't wait until he is home which will be sometime in October."
Phillip, who followed in his father's footsteps when he joined the army, has been in Afghanistan since March and was home for two weeks in July.
June continued: "They asked him if he wanted to come home when the attack happened, but he just wants to get on with it, he doesn't want to come home, he just says 'I'm here to do a job'."
"He couldn't wait to get back to his friends and get back on patrol. They are like brothers, that is the way it is, especially with the Royal Irish, they stay together, they move around as a regiment so they are one big unit, like a family."
June concluded: "I'm so proud of them all."