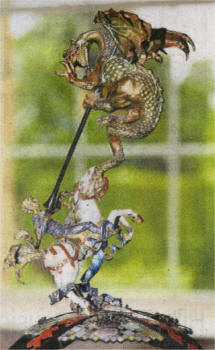 St George and the Dragon, part of the Downing Street silver collection that goes on display at Hillsborough Castle next week.
NORTHERN Ireland's annual celebration of craft kicks off today (Friday August 1) in Hillsborough.
Organised by Craft NI, August Craft Month 08 opens with a packed calendar of over 30 events taking place across Northern Ireland.
The festival offers everyone an opportunity to experience craft and to join in and get some hands-on experience of craft making.
Featuring celebrated talent and emerging craftmakers from Northern Ireland and abroad, activities during August Craft Month include a 'Silver Trail' of 5 major silver exhibitions. The trail starts with a display of cutting-edge silver - the CONNECT collection — at Hillsborough Courthouse. Across the square at Hillsborough Castle, the first ever display of the Silver Trust's collection in Northern Ireland will also be unveiled. This lavish display of ornate tableware is used to entertain important guests and heads of state at 10 Downing Street. Expected to have particular appeal for tourists, this wide-ranging programme of events is supported by the Northern Ireland Tourist Board.
Other highlights of August Craft Month will include visiting Indian artist Ranbir Kaur at this year's Belfast Mela on 24 August in the Botanic Gardens, Craft Fest at Strangford Lough, the Creative Peninsula throughout the Ards and Woodfest at Ulster American Folk Park in Omagh.
As Joe Kelly, Director of Craft NI explains, this partnership represents a major step in developing important links between craft and tourism:
"In light of the recent comments by Northern Ireland's First Minister on the potential for cultural tourism in Northern Ireland, this partnership represents a very timely opportunity,' said Joe.
"Craft NI is already aware of the potential for craft in attracting visitors to Northern Ireland and we are committed to building on this potential." "Over the next 3 years, we will be looking to strengthen this partnership with August Craft Month becoming a major event on Northern Ireland's tourism calendar."
A full guide to the events taking place during August Craft Month is available from tourist offices, libraries and other cultural hotspots across Northern Ireland
To find out more about what's happening during August Craft Month 08 visit www.craftni.org
• The Silver Trust Downing Street Collection is opening at 12.30pm, Friday August 1 with a private viewing at Hillsborough Castle. The collection will be open to the public from Monday August 4 to August 15 for general public, cost of entry £5. Consists of 300 contemporary pieces used exclusively for No 10. This is the first time the collection has been to NI.
For more information http://www.visitlisburn.com/
| | |
| --- | --- |
| | |
| Christopher English, from the Silver Trust, unpacks a large silver 'table fountain' at Hillsborough Castle, centrepiece of the Downing Street Collection which will go on display next week. The collection, used at No 10 Downing Street for state banquets, comprises 300 contemporary silver pieces including plates, condiment and cruet sets, bowls and cutlery designed by leading silversmiths. It was first unveiled for the state visit of French president Francois Metterand in 1993 and was most recently used for the visit of US president George W Bush. Owned by the Silver Trust, the collection is permanently housed at Downing Street except during the summer recess when it tours different parts of the country. This is the first time it has come to Northern Ireland. It will be on display at Hillsborough Castle from next Monday, August 4, until August 15, and can be viewed by the public, before moving to Dublin for a display there. | The Silver Trust's Downing Street Collection goes on view for the first time in Northern Ireland at Hillsborough Castle. It is one of 5 major exhibitions on the 'silver trail' as part of August Craft Month 08. |