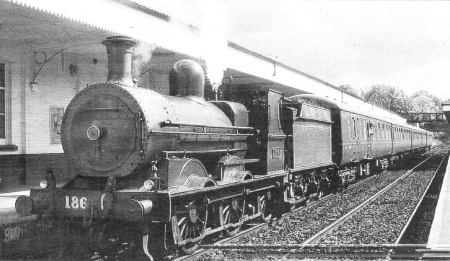 Locomotive 186 during a recent visit to Lisburn.
A grand dame silver screen who's no stranger to Lisburn will visit the city once again later this month. Although quite an age, this particular star who has played opposite Sean Connery has been given a clean bill of health and her arrival in town is sure to draw the crowds.
In true diva style she can huff and puff and her scream which is particularly ea piercing, has been alerting people to her presence for many decades.
She is, in fact, Locomotive No 186 built originally in Manchester in 1879 for Ireland's Great Southern and Western Railway.
She had a major part in the 1979 film 'The Great Train Robbery' which also featured Mr Connery and on Saturday September 20 will haul several special trains operated by the Railway Preservation Society of Ireland (RPSI) to transport people between Lisburn and Portadown's 'Country Comes to Town' Festival. No 186's outgoing has been made possible by sponsorship from Translink and RPSI Chairman Johnny Glendinning predicted it would delight passengers and possibly inspire children to consider engine driving as a career.
"The steam train is a fantastic way to beat the traffic and arrive at the festival in style," he commented.
"No.186 had her last major overhaul in 2004 and is as good as new. Our train will give people a glimpse back to a' gentler age and compliments perfectly the country fair at Portadown." Mervyn Darragh, RPSI Operations Officer was upbeat about the day; "It is great to see such good co-operation between Translink and the RPSI. "Thanks to Translinks sponsorship, the day has been possible. It is very important that we recognise the enormous impact railways made, and increasingly make now on life in Northern Ireland.
"I cannot think of. a more appropriate way of doing this than allowing children and adults to enjoy the sight, sound and smell of our steam train in action on Northern Ireland Railways."
The steam train will be operate between Lisburn and Portadown at 10.45, 12.45 and 15.10. Return trips from Portadown to Lisburn will operate at 11.40, 13.40 and 16.10. All trains will stop at Moira Station to pick up and drop off.
Tickets cost just £4 return and are available from Lisburn Railway Station as well as Lisburn Tourist Information Centre, Lisburn Square.
The RPSI acquired Locomotive 186 in 1965. She was extensively used on the Society's railtours between 1967 and 1980.
12/09/2008