by MARY MAGEE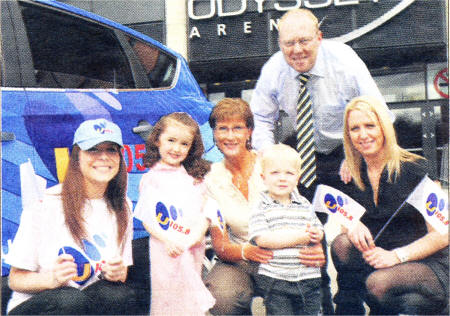 Bronagh McKenna, U105, Rebecca Pollock, Supernanny finalist, Valerie Doak, Nathanial Barr, Peter McVerry, U105 and Jennie King, Big Into Baby
A LOCAL woman who looked after a very ill toddler while she herself was recovering from breast cancer has been named as one of the six finalists in the Big Into Baby Supernanny competition.
Valerie Doak (48), from the Pond Park area who minds up to six children, was looking after little Rebecca Pollock (3) who suffered from scoliosis, a condition of the spine.
Rebecca's condition meant she had to wear a cast and had to be carried around for up to six months, until the cast was removed.
Despite recovering from reconstructive surgery when she was minding Rebecca, Valerie, who was diagnosed in 2003, even refused to take any time off and loyally looked after her while she was in the cast.
It was Rebecca's father Martin who had heard of the competition and decided to put Valerie's name forward.
"I would get notification about different childminder competitions, but I would put them into the bin and would never give them to the parents," said Valerie. "I love my job There is nothing I would not do for 'my' children. I have a 19-year-old daughter and went into childminding soon after she was born and she is very precious to me, so I know just how precious a child is to their parents and I look after them as though they are my own. "
Valerie organises birthday parties, Halloween and Christmas parties and last Friday night she even had a sleep-over for them at her house.
The Big Into Baby competition will be held this weekend at the Odyssey. The winner can enjoy a luxury break for two in the Killyhevlin Hotel, a package from Clarins, a day spa in House of Fraser, a year's worth of guest passes from the Odeon Cinema for two, £500 worth of Westfield Gift Card , one year's free membership to Fitness First Health Club and a family portrait from Parkway Photography.