Humbling experience for Jamie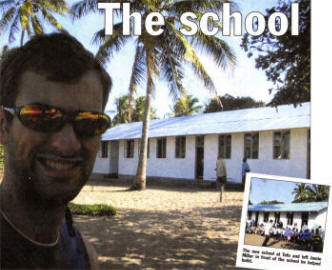 A HILDEN man has given up his summer holidays to help build an impressive school in Mozambique for 250 children. Architect Jamie Millar (27), who works for Scott Wilson, spent a month on the school in the Tofu region.
Jamie was part of a team working on the Scott Wilson Millennium School Project who finished off building the two classroomed school, a timber trussed building with tin roof, and library.
Each working day began at 5.30am and continued until 4.30pm and was spent sawn g , constructing and installing the trusses into the walls by hand. Jamie also did blockwork, building, painting, sanding, screeding and carpentry.
Scott Wilson donated £25,000 while Jamie raised £3,000 through bag packing and a fun run in Ballynahinch.
Jamie said work was often gruelling and done in immense heat but it was an experience that he will never forget and would gladly repeat. "The whole project was an awesome experience," he said. "I have immense pride in what we achieved for people who have so little but give so much.
"The community were very appreciative as the school is the heart of the community. The village leaders would often say prayers as they believed this was a miracle." Villagers showed their appreciation by making food - one, Fernando, cooked meals while wearing a Santa outfit and plans to open a bakery to train young people.
But it was the children who made the most lasting impression on Jamie.
'All the children were learning English and would ask you your name and tell you theirs," he said "About 250 children would run past me at different times saying 'Hi Jamie' and of course there were so many children that you would never remember all their names." Jamie brought over gifts for the children and school equipment.
"The whole thing was more humbling more than anything," he said. "They were all delighted with the end result which was great.
"The children's expressions of awe and excitement at seeing a school building completed, rather than their existing grass hut, will stay in the mind forever.
"These projects happen very rarely but the time, effort, reward and benefits to that local community will last a lifetime."