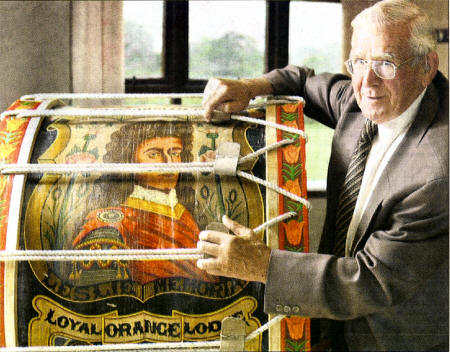 Alan Reddick, who recalls the Twelfth of July parades of many years ago in a new book, written by Mrs Irene Montgomery, called Twelfth Memories. US3108-555CD
ONE man's recollections of a long-ago 'Twelfth' are part of a collection of memories which have been compiled in a new book. 77-year-old Alan Reddick recalled a Twelfth day from 1945 when, as a 14-year-old boy at the end of World War Two, he was given the responsibility of looking after the Lambeg Drums throughout the day.
The Lisburn man recounted his tale to family friend Irene Montgomery, who wrote down his story and entered it into a competition she had seen in the Newsletter in July 2007.
In the story Alan hears the early morning sounds of the 'Lambegs' in the distance and he talks about wearing his good suit, his walk in the procession and his train journey from Maze station, which has long since closed.
He tells, with great pride, about carrying the precious 'box which contained the repair patches for the Lambeg Drums, and how he helped to avert disaster by using one of his patches to repair a drum.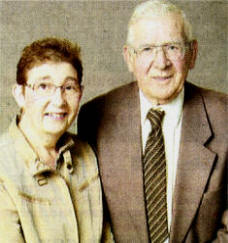 He also recalls the black ribbons on the Banner in memory of those who died in the war, and his excitement at getting half a crown which he spent on ice-cream.
Irene, who is not from Northern Ireland, commented: "I had not experienced the excitement of the Twelfth Parade, but enjoyed Alan's stories so much that I decided to submit one of his stories for the Competition."
Alan has attended 63 'twelfths' and still enjoys the sound of the Lambeg Drums. He is very proud of the fact that his forefathers brought the LOL 206 to the area and the tradition of the Drums for the Parade which is carried on by his nephew Freddie Montgomery and his son Ian.
"I am pleased at how my story turned out," said Alan, "and I hope people will enjoy reading it."
Irene added, "We did not win a prize in the competition but it is still nice to think that something that we have written will bring back many happy memories for other readers.
It is also exciting to see something that you have written printed in a book."
Copies of 'Twelfth Memories', priced £7.99 can be purchased by telephoning 028 3839 5508.