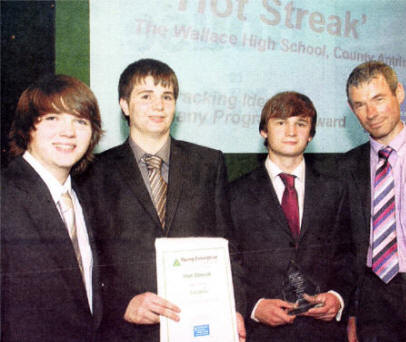 A 'hot streak' of genius on the part of Wallace High School students taking part in the Young Enterprise Scheme earned them a trip to London's prestigious Park Lane Hotel to receive a major accolade in recognition of their efforts.
'Hot Streak' is the name of Wallace's Young Enterprise company whose members designed the 'Straight Safe' hair straightener stand.
This was produced in a selection of colours with a range of accessories. The students also created their own advertisement for the product.
The young people's 'Cracking Ideas' HSBC Young Enterprise Award recognised their understanding of the importance and value of the 'Intellectual Property'
they created along with the stand. A spokesperson explained the 'varied nature' of the intellectual property of the company meant they investigated "a range of protection methods.
"They first verified their idea was not being developed by someone else by using the registered trade mark search on the UK Intellectual Property Office's web-site, which revealed their product to be unique in its area and thus could be trademarked, protecting their product name 'Straight Safe'," the spokesperson continued.
"This set them apart from their competitors by reflecting the safety aspect of the product.'
She also said the company wrote, produced and copyrighted an advert for their product, which was used in their presentations and hosted online.
"They realised they could protect their unique idea by design right,
which would prevent competitors from copying the design, shape and configuration of the products," she continued.
"Hot Streak's thorough research into intellectual property protection and unique product development impressed the judges, and was a great example of how future Young Enterprise companies can take steps to safeguard their innovative designs and products."
Valerie Ingram, Chief Executive Officer of Young Enterprise Northern Ireland, said everyone at the organisation was 'immensely proud of Hot Streak's achievement.
Not only have these young people developed the skills and attitudes necessary to start their own business, but also recognise that protecting their innovative idea is crucial to its future success," she added.