Patrick gets ready to take part in Wild UK Challenge
by JENNY MONROE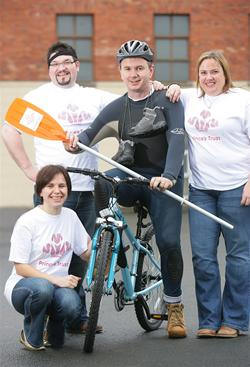 Patrick Davidson (centre) from the Prince's Trust Northern Ireland starts training for the Capgemini Wild UK Challenge, along with his colleagues Orla McCarron, Aodhán Connolly and Pauline Blair.
A DUNMURRY man will be getting on his bike to help change young lives.
Patrick Davidson, Manager of the Team programme at the Prince's Trust Northern Ireland, and four colleagues, will be pushing themselves to the limit by taking on the Capgemini Wild UK Challenge from 5-7 September.
They will be competing against other teams in the challenge of strength and wits across one hundred miles of Somerset and Devon over two and a half days.
The challenge involves hill trekking, on and off road biking and kayaking, before finishing with a sea swim on the South Devon coast. Not only will their physical fitness be put to the test, but there will also be some mystery challenges along the way that will stretch their mental determination. Patrick feels all that will be worth it if they raise enough money to help more young people believe in themselves.
"The main battle in the Team programme is helping the young people to know they are worth something. Once they see that the Team leaders believe in them, the confidence they have in themselves grows and their lives start to change," he said.
The money they raise will pay for five young people to take part in the Prince's Trust Northern Ireland's Team programme; a twelve-week personal development programme that enables young people to develop confidence, motivation and skills through teamwork in the community.
The majority of team participants are unemployed, and through completing this programme find work or enter full time education or training. In order to raise these much needed life changing funds Patrick and the team will be organising a series of fundraising events, from bag packs to table quizzes.
If you would like to support the Prince's Trust NI's efforts please log onto www.justgiving.com/theprincestrustwildchallenge. If you are interested in taking on your own team challenge for the Prince's Trust, there are many challenges available in a wide range of locations, from Somerset to South Africa, on foot, bike, or horse back; there is something for everyone. Contact 9075 8119 for further information.