Mayor wants to host formal reception to honour women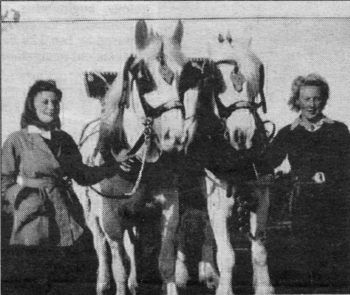 Ploughing in the fields - land girls at work during the war. Pic courtesy of DEFRA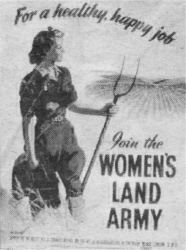 A NUMBER of local former members of the Women's Land Army and Timber Corps are to receive a special badge of honour in recognition of their efforts to provide for the nation during World War II.
The 'Land Girls' and 'Lumber Jills' - seven from Co. Antrim and nine from Co. Down -have been honoured for their services to the nation; and we are hoping to find those local women who have received one of the badges. Because Lisburn City Council is also keen to honour the local ladies by holding a formal ceremony at the Island Civic Centre.
The Mayor, Councillor Ronnie Crawford commented, "We would be very keen to honour them with a formal ceremony, they did very valuable work to keep the nation going when food could not be transported to the country."
More than 30,000 surviving members of the WLA and WTC across the UK are being presented with badges of honour this summer. The women supplied the nation with food and timber during WWII when they were called upon to help in agriculture as male workers went to fight in the war.
At its peak, there were some 80,000 women serving the nation. The Land Girls worked on farms and estates, milking cows, digging ditches, making hay, sowing seeds and harvesting crops, to help alleviate food shortages.
The Lumber Jills worked in forests to provide timber for the war effort, felling trees, cutting timber and sharpening saws.
Prime Minister Gordon Brown said: "The Women's Land Army and Women's Timber Corps worked tirelessly in the war years to keep this country going by providing food and supplies, and timber for the war effort. Their work was absolutely vital, and it is right that we thank them now for their dedication in the service of their country."
• We would love to hear from any of the local ladies receiving one of the badges recognising their work. If you have received one and would like to tell your story please contact Stacey Heaney at the Ulster Star on 92679111, email stacey.heaney@jpress.co.uk or call into the office at 12A Bow Street, Lisburn.