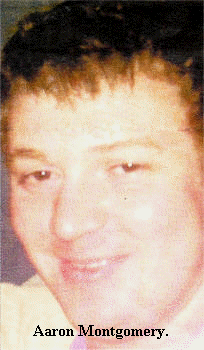 FRIENDS and family of Aaron Montgomery, the 23-year-old Moira man who was killed outside a Belfast nightclub last week, gathered on Thursday at Holy Trinity Parish Church in Aghalee to remember the life of the young man taken so quickly from their lives.
Aaron, who worked at the News Letter in Portadown, died following an incident after night out with friends.
This week friends paid tribute to the young man who was a keen footballer and dedicated to his family.
Norman Bell, Ballinderry District Master and a member of Aaron's Orange Lodge, LOL 148 the Ballinderry Black Reds, remembered the "big smile" on Aaron's face the night before he died, when he led his Lodge's football team to victory over a team from Larne.
"He was a very regular attendee at all our meetings, along with his brother and father, who was a Deputy Master of my Lodge," said Mr Bell. "He played for us in the District Youth Football team and was playing for us last Wednesday night, when he led a winning team.
"He was very family orientated; his younger brother and father went everywhere together," he continued.
"We are all very upset about what happened. It has put a great strain on the family and they have our deepest sympathy.
"Some of our members are tough lads but when you see the tears it makes you realise the loss they feel," he added. Former Minister of Aghalee Parish, Rev Simon Doogan, who has been with the family over the past week, spoke of Aaron as a "vibrant" young man, who is deeply missed by all his friends and family. "Aaron had a great balance in his life for a 23-year-old," said Rev Doogan. "He was energetic and lively. He had his friends, family, work, sport and his church.
"The Montgomery family have had lots and lots of support. They are feeling upheld and loved by the number of people who have been so good to them."
Aaron's funeral was held on Thursday at 3pm in Holy Trinity Parish Church in Aghalee.
Donations in memory of Aaron may be sent to Marie Curie Cancer Care (Living Rooms Appeal) c/o Bobby Morrison, 38 Hillsborough Road, Lisburn.
Aaron is survived by his mother Jacqueline, father Stephen, brother Adam and sister Rachel.
Friends share memories on Bebo

MOVING tributes were paid to Aaron on his Bebo web-site. Here are just a few of the touching comments from friends and family:

One of the nicest and most genuine people i've been lucky enough to be mates with, you were a true legend and will never be forgotten. Thanks for the good times big man, it won't be the same without you.

aah Aaron, that's what I keep sayin then burstin out into tears, its just such a series of ups and downs bro, just so hard to accept ill never be able to see you again. i took it so much for granted that u would always be there, I didn't spend enough time with you. I'm paying the price for that now, that's for sure mate. rest well Aaron

R.I.P. Aaron. will always have ya in my mind. never goin to forget you...one of the nicest guys ive ever known.

What a shock! i dunno what to say. A guy we will never forget. Thank you for the memories. Gone but not forgotten!

I've been trying 2 write a comment 4 days now and i cant find the words. All I know is or gonna b missed by all our friends and family. Rest In Peace Aaron

We all loved you so so much mate and it was tragic what happened when you were taken from us in the early hours of Friday 15/02/08.