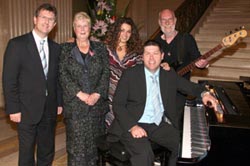 Action Cancer Musical Evening at Stormont
Stephen McLoughlin (seated at his grand piano) and L to R: Rt Hon Jeffrey Donaldson MP MLA, Norma Bell MBE (Chairperson of the Lisburn Action Cancer Group), Bronagh Mullan and Jackie Flavelle.
The Rt Hon Jeffrey Donaldson MP MLA, Member of Parliament for Lagan Valley, hosted a most entertaining Musical Evening on behalf of Action Cancer in the Great Hall, Parliament Buildings on Friday 9th May. on Cancer Group to acknowledge and thank so many people in theThe unique occasion allowed members of Lisburn Acti community who have helped the group raise £0.5m since its formation nine years ago.
In welcoming his many guests, Mr Donaldson spoke of the recent visit to Northern Ireland by the Prime Minister and leading industrialists explaining that it is our people that make Northern Ireland a great place to invest. He went on to say that Action Cancer is about people and concluded by commending Mrs Bell MBE (Chairperson), for her leadership of the Lisburn group which is doing something tangible in changing people's lives.
During the evening Mr Donaldson and Mrs Bell made presentations to representatives from local business, schools, churches and organisations that helped them achieve such a large amount of money for such a worthy cause; and Helen Miller and Louise Carroll of the House of Vic-Ryn, Lisburn, presented a cheque to Lisburn Action Cancer Group for £8,000.
Compered by Wilfie Pyper, the programme featured: Killowen Primary School (Conducted by Wesley Wright and accompanied by Elaine Glendining); Wallace High School Choir - Capella (Conductor David Falconer); St Patrick's Choir (Conductor Louis McVeigh); Trinity Methodist Praise Group (accompanied by Alan McAuley); Lynne McAllister (accompanied by Christine Cairns); Bronagh Mullan (Accompanied by Stephen McLoughlin - Piano and Jackie Flavelle - Bass); Joanna Hyndman (accompanied by Shannon Rainey); John Wilson (Piano); and Brendan Monaghan (Uilleann pipes) accompanied by Mark Wilson (Drums and bodhran).
Field Marshal Montgomery and RUC Pipe Band drummer Mark Wilson, who accompanied Uilleann pipe player Brendan Monaghan, is a winner of six world championship titles. A recovering cancer sufferer, his Leukaemia was diagnosed in February 2005 and has had three cancers in the last three years, which required bone morrow transplant. Mark does not let cancer stop him from playing at world-class level in bands and orchestras and both he and Brendan have recently completed an Irish and American tour with Phil Coulter and his orchestra.
Norma Bell concluded the evening by expressing her sincere thanks to all who supported the Lisburn Action Cancer Group over the years. She also thanked the many talented artists who performed at the concert and all who gave of their time and helped in any way to make a most enjoyable evening.
David Hassard of Ravenblack Developments sponsored the event and Stephen McLoughlin (Music Matters) supplied the grand piano.