All the world's a stage - but was Shakespeare merely an actor?
by MARK RAINEY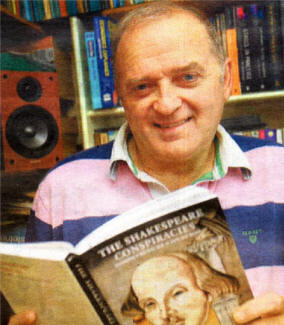 YOU might think there's very little new to say about the most famous author in the English language.
But Lisburn author and magazine editor, Brian McClinton, begs to differ and has released a controversial new book which dares to suggest that William Shakespeare was not the author of the classic works penned in his name.
The Shakespeare Conspiracies' is the result of many years research and Brian's longstanding belief that there is more to The Bard's perceived genius than meets the eye. From first page to last Brian, who taught politics and economics at Friends' School for 36 years, puts a strong argument for his four hundred year old theory but as he admitted "I don't expect an immediate conversion of the orthodox".
"Most of us are slow to admit we are wrong about anything. I suppose the best I can hope to achieve with the book is to sow the seeds of doubt and encourage people at least to realise that there is a case to answer" the Lisburn man said.
The main thrust of the book challenges the belief that Shakespeare had the incomparable learning, high degree of literacy and philosophical understanding to write some of the greatest works in the history of English literature.
Despite the attempts of scholars, primarily in England, to suppress any break with tradi-
tion, the author argues that William Shakespeare led a much too ordi- nary life to write with such worldly wisdom.
"My beliefs are certainly controversial, but many famous literary figures such as Mark Twain and Walt Whitman expressed similar doubts" Brian said.
Such 'heretics' attribute the collection of classics to someone with a much stronger track record as a philosopher and scholar at the time. As for who the mysterious wordsmith behind the lengthy and elaborate deception actually was? You will have to read the book to find out.