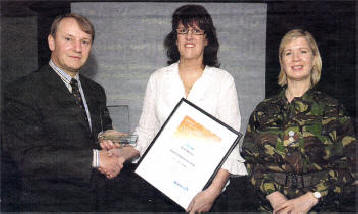 THE widow of a soldier who died in Iraq three years ago has won an Outstanding Learning Award after carving out a new career for herself. Allison Masters from Lisburn, a former chef who now works as a receptionist for a local GE won the Army Torch Hub's Regional Outstanding Learning Award.
Allison, a mother of two teenager daughters, also came runner up in the National Final at the the National Science Museum.
Allison and her husband Ken (40) had planned to set up a cafe in Portadown when he left the army, but after he died suddenly in Iraq three years ago, she felt she could not carry on with her profession as a chef.
She wanted to spend more time with their daughters and wanted a career with better social hours.
As well as dealing with the grief of her husband's loss she also had to contend with other complications in her life. Her mother was gravely ill with liver cancer and as well as that she was also caring for a close friend.
She admitted that she no longer had the drive for the catering business and seeing how important comptuers were in everyday life opted to do a computer course at Thiepval.
Using the resettlement entitlement of her late husband she decided to retrain using the Army Learning Centre in the Lisburn barracks and take the European Computer Driving License (ECDL) course,. Using the internet she was able to complete most of it at home.
"I am a busy person and like to be busy," said Allison. "The course was suitable for me and was able to complete most of it at home. I was not one for going back to learn but decided I needed to do something to keep me busy.
"The whole process was helpful at putting some structure back in my life and without the support of the Learning Centre I would have given up."
Allison now works as a receptionist for a GP, a job she loves. And with her new found talents she hopes in the distant future to become a nutritionist.
She continued: "At the moment I just want to concentrate on the girls. They keep my feet firmly on the ground. My job is good and I love meeting people. Looking after my friend means a lot to me."