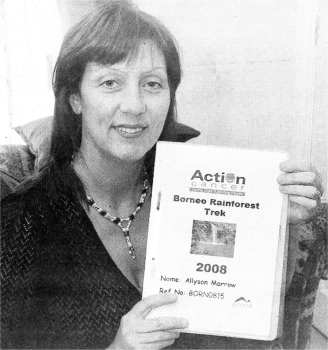 Allyson Morrow who is going on the Borneo Rainforest Trek in aid of Action Cancer. LMO208-127GC
A LISBURN woman will be breaking a sweat in Borneo later this year to raise funds for a good cause.
Allyson Morrow, a former pupil of Fort Hill Primary and Fort Hill College, travels to Borneo for an Action Cancer trek in May for what she has described as the opportunity of a lifetime.
Not only will Allyson be able to indulge her passion for walking - trekking for over eight hours a day - she'll also raise be raising money for a cause that's close to her heart.
"I enjoy walking and I want to raise awareness of the importance of detecting cancer early," she said.
"The Borneo rainforest trek is a way to put the two together - it's the opportunity of a lifetime.
"I've known a few people who have died from cancer and I've always given to cancer charities," she added.
Now the 43-year-old has to raise £3,400 for Action Cancer in order to go on the trip.
She's written to local schools hoping they'll hold a non-uniform day to help bolster her fundraising.
"If any other schools want to hold a non-uniform that would be very helpful and much appreciated," said Allyson.
Hopeful
She's also hopeful her friends in the business community will contribute to this good cause and in April she plans to hold a fundraising garden party
Allyson has been training at Curves in Banbridge but would be interested in enlisting the help of a personal trainer as she aims to up her preparations a gear.
She's also on the look for equipment such as walking boots and specialist clothing to help her battle the stifling heat in Borneo.
• If you'd like to help Allyson in her fundraising drive for Action Cancer give her a call on 07808398471.