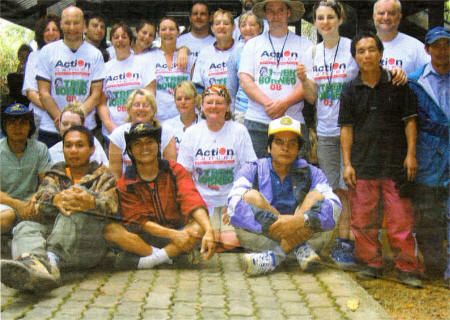 Allyson and the rest of the Trek Borneo team at the summit of Mount Kinabalu
LOCAL lady Allyson Morrow has returned after the journey of a lifetime with 15 other fundraisers through the wilds of Borneo in May for Action Cancer.
The jungle challenge took place through an area containing some of the richest flora in the world and participants trekked all the way from sea level to the highest point in South East Asia, the magnificent Mount Kinabalu. They also had the opportunity to encounter some amazing sights such as the charismatic orang-utan, beautiful river valleys, traditional hill villages, paddy fields and pineapple and rubber plantations.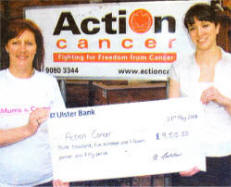 Allyson Morrow presenting Events and PR Officer, Kerry Boyd with a cheque for £9515.50
"Trekking through the Rainforest and climbing Mount Kinabulu was a wonderful experience, one I will never forget," said Allyson. "There was a lot of blood, sweat and tears, but also a lot of laughs. I met an amazing group of people, who, like me were trying to raise awareness of detecting cancer early and also raising much needed funds for Action Cancer's lifesaving service.
"I have made some really good friends and the support I received from Action Cancer whilst fundraising and during the trek was great. At first I was very apprehensive because I thought trying to raise £3,400 would be difficult but thanks to the generosity of local people I ended up with a grand total of £9,515.50.
"I cannot thank everyone who supported me enough," she continued. "Obviously if I were to start naming everyone the list would go on forever but I have to pay tribute to my husband Stephen - without his encouragement and support I don't think I would have had the courage to embark on such an adventure. Stephen's contacts in the construction business were more than generous.
"I would also like to thank my father, Ivan Davis, who was responsible for raising quite a bit of money through friends and business contacts in Lisburn. I also have to thank Stephen McGuiggan of Well Fit Gym in Lurgan who came to my rescue. Without their expert advice and training I definitely would not have been fit enough to endure what I did. 'Also everyone who helped me with the party night -I couldn't have done it without them. Special mention to DJ Deke and Over and Out who entertained us brilliantly on the evening. Thanks again to everyone for their support and to the Lurgan Mail, Ulster Star and Mums in Control magazine for highlighting the trek and my fundraising efforts."