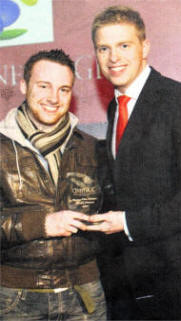 DUNMURRY men Andrew and Ryan Tohill have snapped up a Best Film award in the Cinemagic Young Filmmaker competition.
Andrew and Ryan won the award for their film 'Recollection' in the 18-25 year old category.
They celebrated their success with filmmakers and budding young media professionals at the 18th Coca-Cola Cinemagic International Film and Television Festival Special Awards ceremony in Belfast.
Hosted by Marc Mallett, the awards ceremony opened with the announcement of the winning Cinemagic 'in competition' films, which was made by the young Cinemagic Jury members, aged 10-18 years old, who watched and reviewed all the films over the festival period.
Young filmmakers from across Ireland and the UK also received awards at the ceremony as the winners of the
2008 Cinemagic Young Filmmaker Competition in association with BT Vision. From hundreds of entries the winning frlms and filmmakers were: Best Film in the under 15 year old category, 'Flashback to Fashion' made by young people from combined youth groups in the Ballysillan area of North Belfast. Best Film in the 15-17 year old category, 'A Day in the Life of Asbo Bumble Bee' made by Christian Johnston from Belfast. Best Film in the 18-25 year old category, 'Recollection' made by Andrew and Ryan Tohill. Best Script, 'Just for a Minute' made by Shane Todd, from Holywood. Best Community Filrn, 'A Mother's Tear' executively produced by Cat Campbell Berry, Quiet Storm! Lambeth Academy. Best Documentary Filrn 'Hear Me Out', made by young people at Summer Uni London, as part of the Reel Change project 2008.