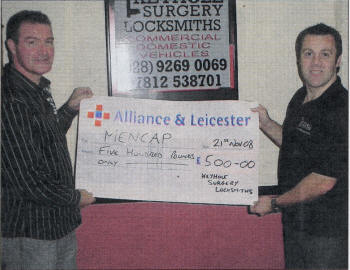 A FORMER Laurelhill student who is now a member of the local business community has helped get the fund raising ball rolling for a teacher at the school who will shortly take part in a gruelling 540 kilometre charity cycle through South America's Andes Mountains on behalf of Mencap.
Andrew Wilson of Keyhole Surgery Locksmiths presented a cheque to Noel McKnight who hopes to raise £3,000 from a charity function in Newforge last Friday. He also provided the prize of a home security consultation at the event.
Mr. Wilson said he was 'very happy' to support the science teacher as he gets ready for the gruelling challenge.
"What he has taken on is going to be difficult but he is dedicated enough to complete the challenge I'm sure," the locksmith added.
Mr. McKnight's trip along the route between Argentina and Chile which, he said, will be 'a completely new experience' will begin on February 13.
He explained he began to cycle as a form of rehabilitation after a knee injury and "got bitten by the bug.
"I cycle to school, when weather permits, making me feel that I am doing my bit for the environment," he continued.
Mr. McKnight has worked in Laurelhill's Science Department for 15 years.
He has also coached all the school's football teams and is no stranger to raising money for charity through physical effort.
While working in London in the early 1990's he raised a significant amount by taking part in the city's Marathon.
Since returning to Northern Ireland he has had fewer opportunities to fund raise but is hopeful of reaching his target with the help of friends, colleagues, former students and the local community. You can sponsor Noel by visiting his online fundraising page on www.justgiving.com/noelmcknight. You can pay by credit or debit card, and the money will go directly to Mencap. Where supporters are UK taxpayers, the charity will automatically receive 28% extra in Gift Aid, which makes Justgiving the most efficient way of sponsoring Noel.