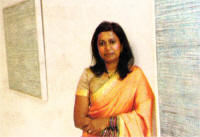 ONE of Belfast's rising art stars, Anushiya (Anu) Sundaralingam is putting her dress sense in the spotlight with a showcase of her latest works, taking the Christmas slot at Lisburn's Island Arts Centre from December 4 - 22.
Hailing from Sri Lanka, but established in the province for almost 20 years, Anu's latest work fuses the world she comes from with the rich fabric of Irish history - quite literally. Dresses are the motif of this vibrant show which features sculpture, printmaking, painting and drawing and pulls together the story of Ulster linen and our relationship with costume in a very eastern fashion.
"I love the movement of people," she explained. This show is about more than dresses: it's a celebration, a drama, a theatre, it's almost like a dance. It's about life and that's what I'm trying to capture with my art." Traditional dress for the women of Sri Lanka is the sari and Anu has used patterns from saris along with local linen threads. Multi-culturalism and a sense of home are explored in these works with a style evoking a powerful sense of emotion and spirit.
Anu's work can be found in public and private collections around the world. She is regarded as one of the hardest working artists in the province, critically acclaimed and very active in the community arts scene.
"I am really proud of the work I have put together for this show and I hope people will enjoy it."