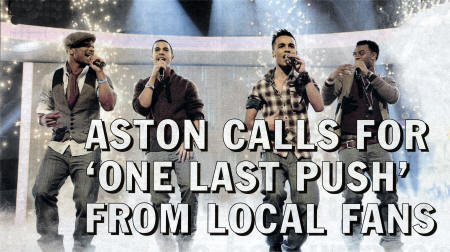 ASTON Merrygold is hoping everyone in the Lisburn area will get behind JLS for "one last push" to see them crowned X Factor champions in tomorrow night's final (Saturday).

The group were ecstatic at reaching the final after a tense semi last weekend, and they have had a busy week preparing for the final showdown where they will perform up to four songs, including a duet with a celebrity guest.
The boys were on the promotion trail on Monday when they paid a visit to Aston's former school in Peterborough, and they caused mayhem in Croydon, the home of fellow band member JB Gill, when thousands turned up to see them perform.
Four teenage fans were treated for minor injuries at the Croydon show and Aston said it was surreal how their lives are changing.
"It was quite scary, really," he said. "We were in the hummer a mile away and were told it's not safe for us. I walked down those streets a couple of months ago; I used to work down there.
"My mum and dad have said 'you can't go on the tube or on a bus, because it's all different now'. I still think it's fine because I've done TV work before, but obviously there is a wider range of audience with the X Factor; it is surreal."

With just four acts left, last week's semi final was a tense affair but two superb performances from JLS; who chose to sing Rihanna's 'Umbrella' and Lonestar's 'I'm Already There', led judge Simon Cowell, who said their performance was in a "different league", to declare: "Not only after tonight do I think you could make the final, I'm going to make a prediction, you could actually win this whole show."
"Before the first song we were fine. The first set of comments were amazing; Simon said it shouldn't have worked, but it did and Cheryl said we smashed it, Dannii said everything was amazing and Louis was supportive as always. Then we got the second set of comments, which were amazing. We gave it everything on that second song and the emotions were just too much." Speaking about choosing a Rihanna track, Aston said, "Chris Brown is more R'n'B, but Rihanna crosses over R'n'B and pop and Umbrella is just a track that everyone knows. It was number one for ten weeks and anyone who doesn't know it must've been alseep that whole time. Everyone knows the words to it, we just thought 'let's put our twist on it, it can go either way', thankfully it worked out well."

The boys were the first to be told that they had a place in the final, and the relief was clear for the four members. "To be called first is just relief," said Aston, "you don't want to wait until that end moment."
"For Saturday we have to potentially learn four songs, one we've done from the series, a Christmas song, a duet with a celebrity guest, although we don't know who yet; they have talked about Duffy, Seal, Beyonce, Boyzone, Take That, any one of them would be great to work with."
The band will also get to perform their version of 'Hallelujah', which will be the single released by the X Factor winner, if they make it through to the top two of the competition. "We want to show our version of it," said Aston. "We are so proud of it. It's amazing to think it could be the first JLS single and number one. We so badly want to perform it, we all loved it, it's a wicked song."
Encouraging all of the local supporters to get behind JLS tomorrow, Aston said, "Obviously this is the biggest night, we want to say thank you for all of your support so far and for putting us into the final.

"We are all so appreciative and we hope you can give us one last push, that's what we are calling it this week.
"We need those votes on Saturday, this is as far as we can come but we would love to win. The dream's already started for all of us and anyone of us can win, it is definitely all to play for. I just want to thank everyone again; please keep supporting us."
JLS are 'winners already' says proud mum Siobhan
SIOBHAN Merrygold has said that X Factor finalists JLS are "winners already" after they made it through to the final of the competition.
Siobhan, who is originally from Dunmurry, is preparing to watch son Aston take part in tomorrow's final and she admitted that it hadn't hit home the competition was coming to an end.
"It hasn't sunk in yet," said Siobhan. "It has been going for so many months and from week to week I've been mentally strong, there's been the same behaviour; butterflies, tears, but the last couple of weeks Aston has been quite emotional and it is hard to sit there and watch that.
"They couldn't have gone any further, they have made it through the journey. They are winners already having made it through; nobody is a loser in the final."
Siobhan continued: "I thought they were amazing last week, the live performances were unbelievable.
"I probably had a normal conversation with them for the first time this week and they haven't changed at all. I wanted to check in when they got the results and anybody would think 'that's fantastic', but they were just numb, I don't think it had sunk in. They are just grateful for the opportunity, they are not bigheaded at all, they have taken everything every day and I don't think they will digest it all until after."
Speaking about Aston's homecoming to his former school on Monday Siobhan commented, "It was fantastic. There were 600 people and it Was controlled. It was strange seeing these teenage girls I've known since they were toddlers going crazy and it was wonderful for the teachers who have supported him and who have always been behind him getting to see him. All of his family were there, myself and his dad, his brother and sister, his grandparents and aunts and uncles; it was like a private showing, only we invited a few hundred people to watch." There was hysteria, however, when JLS performed in Croydon earlier this week. "It's still unreal to see my son making the main headlines of the national
news," said Siobhan. "Aston was absolutely terrified. He rang me from the car and I thought there had been an accident, he was in utter shock. The positive is that that is their fan base; they recognise that they wouldn't be there without the fans."
Following the final of the X Factor JLS will be joining fellow contestants on a nationwide live tour, which will arrive in Belfast on March 18.
"The extended family will be going to Belfast to see them on the live tour," stated Siobhan. "If we want to see them, we want to see them in Belfast.
"There is a new and interesting journey ahead," she added.
Katie Gorman, Caoimhe Gorman, Niamh Gorman, Clare Carvill and Oliver Carvill from Lisburn who will be supporting JLS in the final of the X Factor US5008-121A0
Relations show their support for JLS
LOCAL relatives of JLS member Aston Merrygold have been busy drumming up support this week as the 20-year-old prepares to take part in the X Factor final tomorrow night (Saturday).
Aston's mum Siobhan, grandparents Kathleen and Jim Chambers and his aunts and uncles are originally from Dunmurry, and local relatives are hoping to encourage everyone in the Lisburn area to vote for JLS to see them crowned X Factor 2008 champions.
One local relation, Briege Gorman, explained: "There are a whole lot of family connections. Kathleen Chambers' sister Margaret is married to my cousin. When JLS went through on the show Margaret was on to us to let us know and everybody is behind them.
"The kids have JLS t-shirts and the band sent them signed pictures," added Briege.
Briege's children, Katie, 15, Niamh, 12 and 9-year-old Caoimhe, along with their cousins Clare and Oliver are fully behind the group and are encouraging all of their school friends to vote for JLS in the final.
They are running up big phones bills," joked Briege. The three that I wanted to see in the final from the beginning are there, but we are fully behind JLS to win. The kids keep saying, 'one vote could be the one that could tip it.'
"Niamh will be 13 over the weekend. To celebrate, her auntie Maggie is having an X Factor party on the final night, the 13th - JLS to win. Hopefully 13 will be lucky for some."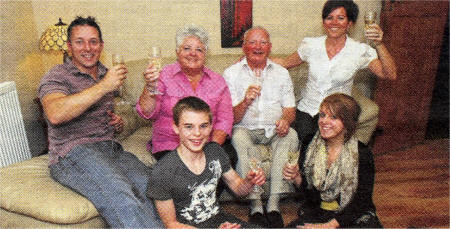 Kathleen, second left, with the rest of the family and mum Siobhan, back right.
Lisburn support is 'extra special' says Aston's gran
ASTON Merrygold's grandmother Kathleen Chambers has said the support for her grandson in the Lisburn area is "extra special" for the former Dunmurry resident. Kathleen, who lived in Seymour Hill with her husband Jim and four children, including Aston's mum Siobhan, said: "I must admit while reading the article in the Ulster Star last week, I was crying. My poor husband did not know why, but all my happy memories of Dunmurry came flooding back.
"The support in Peterborough is lovely," she said, "but to have such support at home is extra special." Kathleen joined fellow family members at Aston's former school, the Jack Hunt School in Peterborough on Monday when the JLS boys paid a visit after making it through to tomorrow's final (Saturday). Kathleen said, "We had a really full morning, all our family were invited as guests and an X Fator crew filmed everything. It was wonderful watching all of the students and teachers going wild."
Kathleen and the family were able to spend some time with Aston during the morning, however his hectic schedule didn't allow for any time alone with him.
"They brought us into a side room but they wanted to do an interview, you don't get to spend any private time at all, it takes a bit of getting used to" said Kathleen.
"They arrived back in Peterborough in a huge limousine with their initials on it. I got talking to one of the boys afterwards and he said it was quite frightening with everyone banging on the car, he said to me `now I know what the Beatles faced'. But it was lovely, absolutely lovely.
"Saturday went beyond our expectations, it's a wonder you didn't hear us screaming in Lisburn. After the result we didn't know who else went through or anything, it wasn't until the next day that we found out when we watched it again.
"Proud isn't just a word for it, we are bursting. Even though we watched it on Saturday night and we know the result, the brain still
does not take it in. Sometimes you think, 'that's not our Aston'. "Saturday was like being on a rollercoaster. We were thinking, 'they've done well' and trying to console ourselves if they went out, and then the performance they put in was outstanding and you're thinking 'there's a good possibility they are going to do it'. I had my fingers absolutely dug into somebody else's arm and I didn't even realise. And then there were the cheers and the tears."
Speaking about the local support for Aston and JLS Kathleen said: "I just want to thank everybody who has been voting for them. I want to send my heartfelt thanks to all of the Ulster Star readers."