Proud mum Siobhan speaks of strong links with Dunmurry
by STACEY HEANEY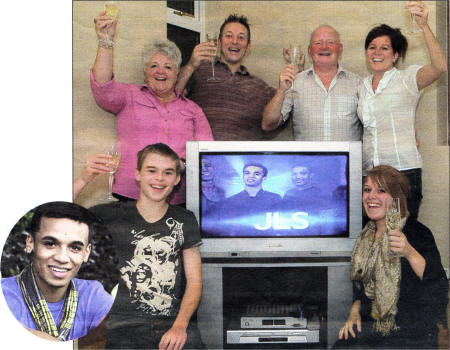 Aston Merrygold's family toast the success of his group JLS in ITV's X-Factor. Pictured from left: brother Conor (15), grandma Kathleen, dad Orjan, grandad Jim, mum Siobhan and sister Courtney (14). Picture: Georgi Mabee.
SIOBHAN Merrygold, the mother of X Factor contestant Aston, who is originally from Dunmurry, has spoken of her family's close connection to the Lisburn area.
Siobhan, who grew up in Peterborough, said JLS member Aston, who is currently being mentored by Louis Walsh on the hit TV show, has "huge links" with the area.
Siobhan, the youngest of four children, commented, "I'm really surprised and pleased by the growing support for JLS over there. Aston has always felt a closeness to the area, growing up around all of us.
"I still regard myself as being from Ireland, although I grew up in Peterborough, and all of our contacts and family are either there or from there, so we have strong embedded roots."
Siobhan said her parents, Jim and Kathleen, are so proud of Aston's achievements and are backing their grandson to go all the way.
"My parents are incredibly proud.
They were a huge part in helping with Aston when he was growing upand there is a special bond of closeness between them. They are the oldest groupies in town."
"It still hasn't really sunk in that Aston is up there every week," she continued. "Proud doesn't describe how I feel about Aston."
Thanking local people for their support, Siobhan said: "I would say to enjoy the show and thank anybody who is voting for JLS."
JLS, Aston, JB Gill, Marvin Humes and Ortise Williams, are now down to the final six on the show and are one of the favourites to reach the final on December 13.
The four piece took the show by storm last Saturday when they took on the challenge of a Beatles Medley during 'Best of British' Week, and they are hoping to continue to wow the public when they perform a Take That hit during Take That Week on Saturday night.
Speaking from rehearsals on Tuesday, Aston said the group were having a "fantastic" week, despite not having yet chosen a song for the show.
"It's been fantastic. We had an early master class with Take That, which was amazing," said Aston.
"I texted my cousin afterwards and she was so happy, she is a massive Take That fan and she was telling everyone at work about it."
The boys were given some good advice by Take That members Gary Barlow and Mark Owen, who helped them to choose a song after their original choice was chosen by one of the other contestants. Aston explained: "We were going to do Rule The
World, which is our favourite Take That song for all four of us. We had a really good routine worked out and a great arrangement but Dannii has taken the song for one of her singers. She's got first pick and she has chosen that song.
"We've got four tracks to choose from and we're trying to find the right song, but we got great input from Gary and Mark - who better than Gary Barlow to help us find the right song for us? He has written most of these songs,' he said.
JLS were pleased with their unique Beatles Medley on last week's show, despite some negative comments from 'Mr Nasty' himself, Simon Cowell. Aston stated: "We're four of the luckiest boys in the country right now. I think the Beatles Medley was something unexpected and I think it got us a little bit more respect. I think we did it justice and we were more than happy, even though Simon asked if it was our idea or Louis's; at the end of the day we are a team. But their points we not about the performance so it's all good, it's constructive. I don't know if they mean the comments, but you know when you feel right when the performance went right and that's the best we've felt so far."
Aston was also able to spend some quality time with his family at home last week. "It is quite overwhelming that we got to go home and we are still in the competition, we are very very lucky. It was especially great to see my nan and grandad, they love going on cruises or they are back in Ireland with family, but they are always sticking by me and supporting me, even when I was young and I was always singing and dancing, as much as I was into football and sport, they always said this is where I belong."
There was also an impressive piece of fan mail for the band this week when they received a letter from Prime Minister Gordon Brown for their role in the number one single 'Hero, which has raised over £1 million for the Help For Heroes charity.
"We have set ourselves goals that we wanted to achieve in our career and we wanted to prove ourselves to be role models to the younger generation, so for the PM to call us role models and thank us for the single is surreal."
"I'd just like to say thank you so much to everyone who is voting for us. Keep watching and keep vot- ing, and we'll do our best."
Aston Merrygold's family toast the success of his group JLS in ITV's X-Factor. Pictured from left: brother Conor (15), grandma Kathleen, dad Orjan, grandad Jim, mum Siobhan and sister Courtney (14). Picture: Georgi Mabee.