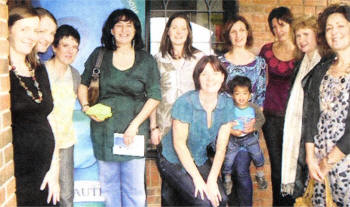 WHEN a local woman was about to turn 40 she decided to mark the occasion with a coffee morning to raise funds for an autism charity.
Sinead McKeown invited her friends and family to the special party and generously donated the proceeds to Autism Northern Ireland Lisburn Branch.
Sinead explained: "I became aware of autism in recent years when I ran the Lisburn half marathon for the then Mayor's Charity which was AutismNl Papa.
As I approached my birthday I decided to host a coffee morning to raise funds for the local Lisburn Branch of the charity and to help raise awareness of this hidden disability. I have friends whose children have autism and in recent years I became aware that a former school friend received a diagnosis as an adult. I realise now how difficult life must have been for him without a diagnosis".
Lisburn Branch Chairperson Claire Hughes thanked Sinead for her generosity. She said: "Autism affects three areas of a person's life; social interaction, social communication and imagination, thanks so much to Sinead for raising a fantastic total of £345 and more importantly raising awareness of this much misunderstood disability".
The Lisburn Branch of Autism NI will meet again on Monday January 12 in Warren Children's Centre.