by STAR REPORTER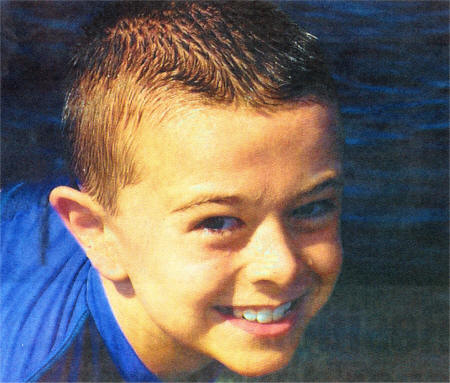 Dromore Amateurs Youth footballer Bailey Russell whose death has stunned the community.
THE sudden death of a ten year-old Dromore boy has rocked the local community.
Bailey Russell had aspirations of following in his father Andy's footsteps and becoming a footballer.
But his dreams were tragically shattered when he passed away at the weekend - just days after being diagnosed with leukaemia. It is understood Bailey, whose funeral took place on Tuesday, was diagnosed with the disease last Thursday.
He was later transferred to the Royal Victoria Hospital's intensive care unit where he was placed on a life support machine.
However, after suffering infections, Bailey died of multiple organ failure in the early hours of Sunday morning.
Bailey, from Heron Wood in the town, leaves his mother Rhonda, father Andy and older brother Alex.
A member of Dromore Amateurs Youth Under-11 squad, he was voted their Players' Player of the Year just a couple of weeks ago. Keith Scott, who coaches the Under-11s with Bailey's father, described the boy as "one of a kind".
"I can tell you he was one of the nicest wee fellows you could ever meet, with an impish grin and lovely nature," he said.
"Everyone connected with the club, all the parents and the whole town is completely devastated at: the news which was an awful shock which came very much out of the blue. "My own son and my partner's son are also in the team and they've been beside themselves with grief. I myself have been in a daze and can't even begin to imagine what Andy and his family are going through.
"Bailey was admired not just by those he played with, but also by all of the coaches and the parents who travelled to see the boys in action - his enthusiasm, skill, and infectious smile making an indelible mark on those watching.
"Bailey was always to be seen playing outside with the other children from the area and his presence among them will be very sadly missed.
"It is with a heavy heart and deep regret and sadness that the committee, coaches and players of Dromore Amateurs Youth pay tribute to Bailey and they express their deepest sympathies to the entire family circle at this most difficult of times."
The funeral service took place on Tuesday at 1.15pm in Banbridge Road Presbyterian Church, Dromore, followed by interment in Dromore Cemetery.
Donations in lieu may be sent to RJ Poots and Co, 6 Circular Road, Dromore. BT25 1AL for Leukaemia Research.