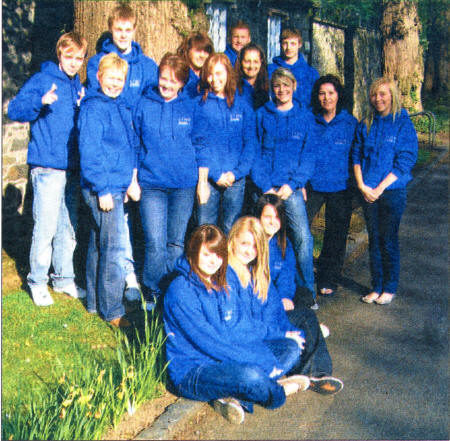 Sitting Down L-R - Sarah Cardwell, Kelsey Wilson, Natalie Hawe. Front Row L-R - Patricia Evan, Joanne Hawe, Danielle Spence, Emma Russell, Nicola Williams, Zoe Spence. Back Row L-R - Charlie McKeown, Jamie Owens, Selina Dunsmore, Lisa Armstrong, Gordon Armstrong and Jack Carlisle Missing from the photo is Jackie Moore.
LAST year a team from Ballymacash Primary School travelled to Romania to work with orphans, and it was so successful they are going
back again this summer. Three members of staff from Ballymacash - Patricia Evans, Joanne Hawe and Lisa Armstrong — will be joined by 13 friends and family to provide some welcome help for one of their colleagues Fiona Coles, who with her husband Paul is finishing their last Summer in Targu Mures where they have been Camp Directors with Livada Orphan Care over the past two years.
Theme
The theme for camp this year, which runs from June 28 to July, 7 is Go for Gold. It has been chosen to tie is with this year's Olympics. The team hopes to raise £10,000 to enable take 65 orphans to go to the Summer Camp.
The next fundraising event is this Saturday, May 24, when there will be an Exodus Mission — Social at Ballymacash Primary School at 7.30pm.
All young people are invited and tickets £5.
Then on Friday June 6 there will be a Street Collection in Bow Street 10am- 4pm smf on Wednesday June 18 a team will be taking part in the Lisburn City Fun Run
Supported
The Team would like to thank the Church of the Nazarene in Warren Gardens for granting them the use of their church. and everyone who has supported them.
Organiser Patricia Evans said parents and friends at Ballymacash Primary School and Nursery Unit had continued to give wonderful support over the past two years. The team are funding their own expenses including flights so that all the money raised will go to their work with the orphans.