BARRY PREDICTS A BRIGHT FUTURE FOR ROWANDALE
by STACEY HEANEY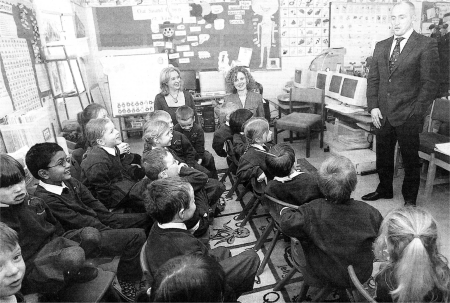 Barry McGuigan speaks with children at the opening of Rowandale Integrated Primary School on Tuesday. US0308-105A0
BOXING legend Barry McGuigan proved to be a knock out when he visited Moira this week to officially open Rowandale Integrated Primary School.
And the former World Featherweight Champion, a patron of Integrated Education, said he was delighted the school had won its own battle to open.
The winner of Hell's Kitchen 2007 said: "I'm thrilled to bits Rowandale has provided an integrated school in Moira. There are 18 pupils already and we'll see what they can do in the next few years. It will grow and grow, just like Integrated Education itself since its inception in the 80s."
He continued, "There are now 19,000 pupils in Integrated Education, it is one of the biggest success stories in Northern's Ireland's history. It is all about people power, it is the parents who have driven it forward. They want their children to properly understand other religions and have mutual respect for each other. We live in a multi-cultural society, we have to learn to respect each other.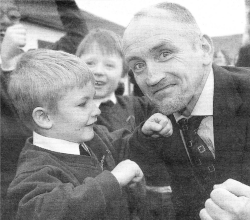 Barry with pupil Andrew Huff at the opening ceremony. Photo by Simon Graham/Harrison Photography.
"The message is getting across, but there have been obstacles. The 'boys on the hill' could make it much easier instead of putting obstacles in the way. It should be compulsory to offer Integrated Education; at the minute parents are going to the government and being told they have to increase the numbers of pupils, and that numbers have to be perfectly mixed, there are a whole load of obstacles in the way and I'm frustrated and angered by that.
"The government are talking about a shared future, but how can we understand each other and learn together when children are segregated at three or four years old until they are 18 when they go to university? They are already tainted by then.
"To co-exist is one thing but to really understand each other and learn together is another. We have to have a completely better understanding for the 21st century; we all have to be tolerant. It is better to teach young children together, it makes sense to me, I wish the government would stop dragging their heels."
Barry continued, "With Integrated Education you are not leaving religions at the gate, you are taking them into school and celebrating them."
Praising the Rowandale parents steering group for their hard work during their fight to open the school, Barry said, "They'd a long struggle but if something is worth fighting for, you fight for it. Rowandale is a wonderful school of learning with fabulous pupils and a wonderful principal - Frances Hughes is a wonderful woman. Look at that place in five years, it will be a magnificent success producing wonderful children; the sort of children that Northern Ireland can be proud of."
Mrs Hughes said they were 'delighted and honoured' to have Barry with them.
"Barry will be an inspiration to our children not only because of his personal achievements but also as someone who genuinely shares the ethos and values of Integrated Education," she said.