85 Signal Squadron take part in two day challenge to the Mournes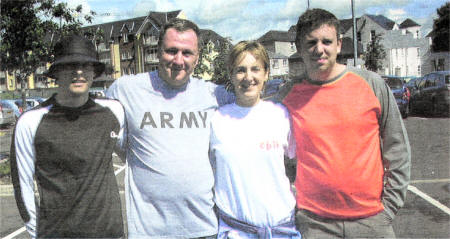 Scotty Robertson, Steen Wilson and Simon Wilson with Catherine Murnin from the Child Brain Injury Trust at the Mourne Walk Fundraiser. US3308-
A GROUP of local people has taken part in a two-day challenge, trekking the Mournes to raise funds for the Child Brain Injury Trust.
Scotty Robertson, Steen Wilson and Simon Wilson, who are all members of 85 Signal Squadron, based at Thiepval Barracks, took part in the event to raise funds for children with acquired brain injury, a life-changing and lasting challenge for those affected.
The event saw people from across the country gather together to take on the challenging trek, which raised £5,200 with money still to be collected.
85 Signal Squadron are new to the Lisburn area, and Scotty Robertson said they would be more than willing to help any local people undertaking any similar challenges. He said: "85 Signal Squadron are on the doorstep of Lisburn and if any-
one ever needs help with something like this, don't hesitate to come up and ask us. We are new to Lisburn and we want to try to get everyone in Lisburn to know we are there."
The event involved 54 walkers led by three groups of families with children with Acquired Brain Injury. Catherine Murnin of the Child Brain Injury Trust said: "Acquired Brain Injury is children who are born normally and then either a road accident, a fall or illness means their brain is damaged. They can look normal but have problems with their learning, memory, behaviour or making friends.
"We are trying to raise awareness about the impact of Acquired Brain Injury on the children and their fam- ilies."
Speaking about the trek Scotty said, "This was the first I had heard of the Child Brain Injury Trust, but I learnt
alot about them. I didn't know that the children could look normal and have adverse behavioural problems with their injuries.
"I would definitely do this again, we are hoping to get the whole squadron involved in it if we do it again."
Scotty continued: "I've done a bit of mountaineering before in Spain and the Pyrenees, but I loved the trek in the Mournes. There was a real sense of achievement when we finished the trek. The atmosphere in the group was fantastic and I would encourage anyone to do it, especially if it is for a good cause."
Anyone who would like any further information on the Child Brain Injury Trust can contact Catherine Murnin at catherinemurnin@cbituk.org or visit the website at www.cibit.org.