by NEIL GREENLEES
neil.greenlees@jpress.co.uk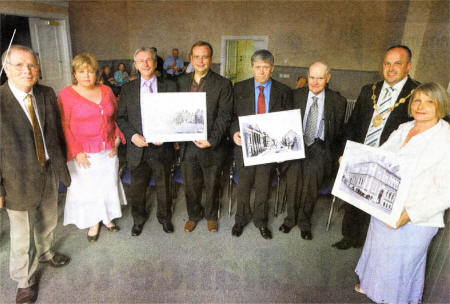 At the re-opening of the Bridge Community Centre are the 'Friends of the Bridge'. Pictured (I-r) Mr Gilbert Watson; the Director of the Voluntary Community Unit (VCU), Miss Maeve Walls; Alderman Seamus Close; Mr Gary McMichael; Chairman of the Council's Leisure Services Committee, Councillor Brian Heading; Mr Henry Philips; the Mayor, Councillor James Tinsley and Mrs Joanne Waterson.
ONE of Lisburn's landmark buildings, the Bridge Community Centre, has re-opened its doors to the public following a £1 million facelift.
The building, which stands at the corner of Railway Street and Magheralave Road, was originally build a century ago as the Temperance Institute.
It has now undergone a complete refit designed to meet the standards required of a modern community facility. New access has been provided to the ground floor along with a lift to all levels. A range of facilities has been installed to help people with disabilities while the area used by the Citizens Advice Bureau has been extended.
A plaque marking the re-opening was unveiled by the Mayor, Councillor James Tinsley.
He spoke of his pride at being able to officiate at the occasion and continued: "Those engaged in community work have in this refurbished facility a centrally located com- munity centre to take pride in and we are confident the building will continue to prove a great asset to our City," The Chairman of the Council's Leisure Services, Committee Councillor Brian Heading described the opening as "a very special occasion for the many groups that; use the centre as well as those who campaigned for its continued use and upgrade by the Council.
The Bridge was host to over 70,000 users annually, and was an important facility which the public wanted retained " he explained.
As well as being the home to the Council's Community Services Section, including the Resource Centre and Minibus Service, the Bridge also provides a permanent base for the Citizens' Advice Bureau, the South Eastern Education and Library Board's Youth Service and the 'Contact a Family' Organisation.
Any individual or Group wanting to know more about what's available at the newly refurbished Centre should contact the staff on 9266 2496.
| | | |
| --- | --- | --- |
| | | |
| Pictured outside the newly refurbished Bridge Community Centre, Lisburn are The Right Worshipful the Mayor, Councillor James Tinsley; Assistant Director of Leisure Services, Mr Brian Mackey; Mr Victor Hamilton and Mr Cecil Kirkwood who officially opened the Bridge Community Centre in 1981. | The (Temperance Institute) Bridge Community Centre in 1890. | The Bridge Community Centre newly refurbished in June 2008. |