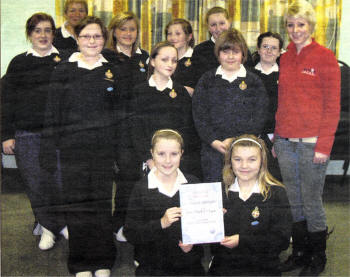 Girls' Brigade members who raised £65 for Action Cancer with their Captain Karen Allen and Sarah Quinlan from Action Cancer.
LISBURN Methodist Girls' Brigade have raised £65 at a 'Pink Dinner' in aid of Action Cancer's Breast Cancer Awareness Campaign.
Sarah Quinlan from Action Cancer commented, "This is a brilliant fundraising initiative and Action Cancer are delighted to be the beneficiary of all the donations. Well done to the girls for organising this event."
Action Cancer currently screen 1100 women per month resulting in 7 detections. All money raised from this event will go towards Action Cancer's early detection and breast screening services.
For more information on Action Cancer please contact Sarah Quinlan on 028 9080 3349 or email squinlan@actioncancer.org.