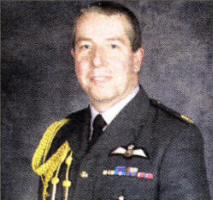 AFTER just over two years in command of Royal Air Force Aldergrove, Group Captain David Stubbs OBE ADC RAF handed over command to Group Captain David Cass ADC RAF recently.
Group Captain Cass has recently completed a tour with the British Defence Staff United States as the Assistant Air Attaché, but in the mid-1990s he was a Puma Flight Commander on 230 Squadron, based at Royal Air Force
Aldergrove. During the handover period, Group Captain Cass said: "I am delighted to be back in Northern Ireland. RAF Aldergrove is firmly focused on contributing to operations overseas. This will continue throughout my tenure, as will our efforts to engage with the local community."
Group Captain Stubbs will be going to the Royal College of Defence Studies in London.