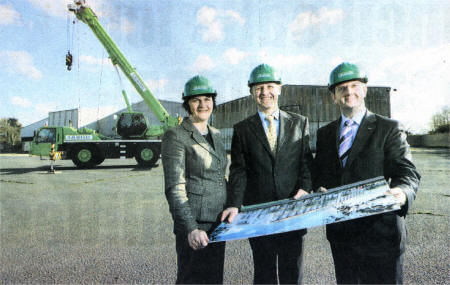 Celebrating Planning Approval within six months for Graham's new £10 million eco-friendly HO is Environment Minister Arlene Foster, Michael Graham, Executive Chairman of GRAHAM and Lagan Valley MP Jeffrey Donaldson.
LOCAL construction company Graham has been given the green light by Planning Service to build its new £10 million ecofriendly Head Quarters.
Graham, who employ close to 1000 employees, have also announced that the new HQ facility will allow the company to create 200 jobs over the next two years.
The eco-friendly HQ will be based just off the Al dual carriageway beside Hillsborough. It will use a biomass boiler, collect rainwater and Graham are hopeful it will receive the highest award level for Sustainable buildings — the 'Excellent' BREEAM rating.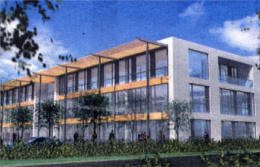 Also, significant is the processing of the planning application within six months, by Planning Service's new Strategic Projects Unit (SPU). The Graham application is one of the first to be processed by the unit.
Executive Chairman of Graham, Mr Michael Graham said: "This planning approval allows Graham to forge ahead with the construction of our new HQ on schedule. It is no secret that we have outgrown our historic HQ base in Dromore and we had feared the new HQ planning application would take longer to process and thus impact upon our business development plans.
'We have been impressed by the attitude and approach of the SPU to the planning application and also want to thank Jeffrey Donaldson and Lisburn City Council for their support."
Lagan Valley MP Jeffrey Donaldson said: "I am delighted that Planning Service have succeeded in approving the new Headquarters for Graham in just six months. This application was quickly identified as a strategic project which enabled it to be fast-tracked through the plan- ning system. The company is a major investor in my constituency and provides substantial employment for the local community. This is a good example of how Government and business can work constructively together for the benefit of everyone."