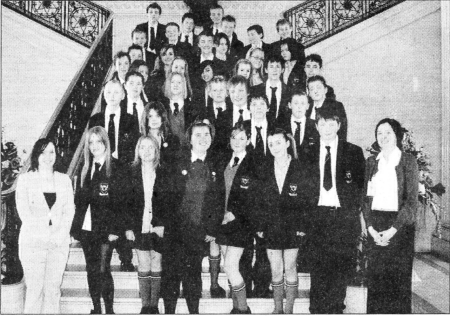 Year 9 pupils at Stormont - Year 9 pupils from Laurelhill College at Stormont.
A GROUP of students from Laurelhill College have presented Lagan Valley MP Jeffrey Donaldson with a child poverty petition.
The pupils were invited to Stormont by Mr Donaldson to learn more about the workings of the Northern Ireland Assembly and during their visit they presented him with a petition which contained 650 signatures supporting Save the Children's campaign to tackle child poverty.
Pupil Angela Penney said: "We had a great time at Stormont. We were able to give our Child Poverty petition to Mr Donaldson and we also visited the Public Gallery and were able to witness First Minister's
Questions. It was brilliant that we could experience something that we would normally only see on television.'"
Speaking about the visit Mr Donaldson commented: "The keen interest taken by the students in the work of the Assembly and their quick grasp of how the government in Northern Ireland operates greatly impressed me.
DELIGHTED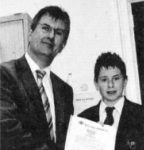 "I was also delighted to receive the petition signed by a large number of the students at Laurelhill College in support of the campaign by 'Save the Children' to tackle the problems associated with child poverty.
It is a tragic fact that across the world some 10 million children die each year before their fifth birthday. Many of these children die as a result of poverty and neglect whilst others lose their lives through disease such as pneumonia and diarrhoea.
"As a Minister, I am committed to ensuring that our children and young people get the best start in life and that the government invests in their health and wellbeing. In organising this petition the students of Laurelhill College have demonstrated the kind of caring attitude that gives us all hope for the future."