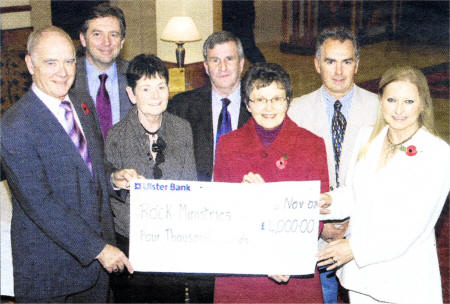 Joan Cunningham (right) from Saintfield Show Committee presents a cheque for £4,000 to Ian and Phyllis Hasson of Rock Ministries (NI) Trust to support their project for the Ugandan Orphans. The money was part of the proceeds raised at the Saintfield Gala Ball held recently in the Ramada Hotel, Shaw's Bridge. Also included are Saintfield Show Committee members Patrick McMillan, Viola McBriar, George Lyons and Billy Wallace.
NORTHERN Ireland Hospice will hold their Christmas Flag Day collections in Belfast City Centre in the coming weeks. On Thursday, November 20 between 9.00am-9.00pm the collection will be in aid of the Children's Hospice and then on Tuesday, December 9 2008 the flag day will be for Adult Hospice.
Jan Harrison, Events Fundraiser for Northern Ireland Hospice commented: "It doesn't matter how much or little individuals can give.
"Every penny adds up and will make a difference to the amount of money we are able to raise for the work of the hospice and the children's hospice."
Northern Ireland Hospice provides a high standard of care, at home and in Hospice to adults and children with life threatening and life limiting illnesses. They need to raise funds to enable them to continue to provide this level of service.
They are looking for volunteers to collect money between the hours of 5pm-9pm on both dates. If you are over 16 and would like to help ring Jan Harrison at Northern Ireland Hospice on 028 9078 1836 or email jan.harrison@nihospice.org