by JULIE-ANN SPENCE
Below inflation rates rise on the cards for Lisburn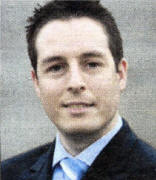 RATEPAYERS in Lisburn have been handed an unexpected Christmas present with the news they can expect a below-inflation rate rise next year.
Amid deepening gloom on the economic front, concerns have been expressed by the Northern Ireland Local Government Association that, without help from the Finance Minister, councils would be forced to cut services and introduce big hikes in bills next year.
However, the chairman of Lisburn's Corporate Services Committee Councillor Paul Givan said Lisburn Council had already considered the draft figures for the next year and he was confident a below-inflation rise could be expected without cuts to services.
"We have considered the initial draft estimates," explained Mr Givan, "and we are not expecting a huge rates hike, nor will we be cutting services in the city. We are on course to deliver a below inflation rates increase and, rather than cutting services we will actually be providing additional funding for services. For example we will be putting money into Lisburn's CCTV service."
Mr Givan added: "Given the pressures on the Council, particularly the rise in energy costs, it is impressive that we are able to provide a below inflation rise and are also able to enhance some of our services. "