Wheelie bins used in latest arson attack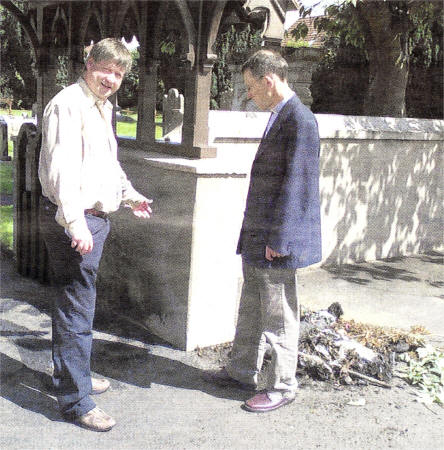 Basil McCrea MLA and Rev. John Rutter of St. Aiden's Church of Ireland, Glenavy survey the damage following the fourth arson attack on the Church in four months.
A GLENAVY church has been vandalised for the fourth time in four months in an arson attack last weekend.
Three wheelie bins were taken from various parts of the church grounds and set alight beside the gates around 1.30pm, causing minor scorch damage.
The rector, the Rev John Rutter, explained: "A neighbour spotted the fire and called the Fire Brigade, who came and put it out. It left a sticky mess outside the entrance but thankfully it was spotted and wasn't any worse."
He continued: "This is the fourth time in as many months this has happened. I think it is vandalism rather than pointed attacks on any particular church. I have been in touch with the police, they had promised to be more active in the area and I am hoping for more direct action on anti-social behaviour. '
Rev. Rutter added, "We have the Glenavy Youth Project which is quite a vanguard of cross-community action, but some older members of the community may say we are rewarding youths for being bad.
"I would encourage families to use this as a reminder to know where their children are and if they are older children to check who they are with and give them times to be back, as some can get into bad company."
Rev. Rutter added, "Inevitably parishoners are angry that this goes on and on, particularly the older members who have seen enormous change in the village. There is anger at the disrespect for Church property, and by implication, those who go there. There is a clash between the city and the country and this only adds to the general attitude of suspicion of newcomers."
The Rev Rutter added he was hopeful those responsible will be caught.
Inspector Stephen Burns from Lisburn PSNI, said local neighbourhood officers are following a positive line of enquiry.
"We are working with the Community Outreach Worker and Rev. John Rutter to deal with any problems they are having there" he said.
Sinn Fein MLA Paul Butler strongly condemned the incident as "a despicable attack on a place of worship."
Mr Butler said: "I would like to extend my sympathies and solidarity to Rev. John Rutter and the congregation at St Aidan's, a congregation which has generously and admirably led the way in providing much-needed premises for the youth of the village, regardless of creed."
"I would call on anyone with information relating to this attack - or any previous incidents - to bring those details to the PSNI to ensure the culprits are apprehended."
Ulster Unionist MLA Basil McCrea, who visited the scene to speak to the Rev Rutter, said: "The church is trying very hard to reach out to the wider community and the PSNI really needs to take a proactive approach. The congregation needs to be protected from these sort of attacks."