Christmas shopping trip ends in tragedy for Dunmurry girl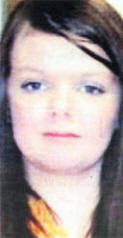 A LOCAL councillor has spoken of the devastation of a Dunmurry family after their 16-year-old daughter died when she was hit by a bus in Belfast city centre on a family Christmas shopping expedition.
Councillor Angela Nelson said Ciara Park's death had brought her family's world to 'a terrible halt'.
Speaking after visiting Gerard and Briege Park and their three other children Claire, Gerard and Stephen she said they were "inconsolable".
Her parents are just devastated and completely heartbroken. They just want their daughter back," she said. "Ciara was a wonderful child and an excellent pupil at school where she was preparing to take her mock GCSE examinations."
Mrs Nelson said the Dunmurry teenager was on her way to meet her father and brother after leaving them for a short time to buy a CD during a family Christmas shopping expedition on Tuesday afternoon.
Ciara, from Margaretta Park, had arranged to re-join her devastated dad Gerard in the Primark Bank Buildings store but was struck by the Metro bus as she crossed Royal Avenue just beside its junction with Castle Place. Frantic efforts to save her began with the bus driver evacuating passengers from the vehicle and using the hydraulic system to lift it as far off the ground as possible.
`We had a little tribute, a little prayer service and the first piece of music was called Angels which just summed up what Clara was like, because she was such an angel.' Carol McCann, Principal St. Dominic's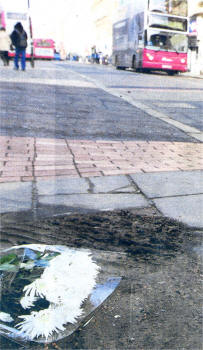 Fire crews used inflatable airbags to allow paramedics to treat the teenager before placing her on a stretcher and taking her to the Royal Victoria Hospital.
The St. Dominic's pupil passed away at the RVH despite desperate efforts to save her by medical staff.
Ciara's classmates left flowers at the scene of the accident on Wednesday and St. Dominic's Principal Mrs. Carol McCann said she was 'devastated' to have lost such a wonderful pupil. She was a shining example to her school mates and a loving child who had a bright future ahead of her. She was very much just the perfect girl...just a girl who was the perfect student to have in class, a perfect friend. Not a girl who would go through the school without doing her best every single day.
"We had a little tribute, a little prayer service and the first piece of music was called Angels' which just summed up what Ciara was like, because she was such an angel. "Clara was a very valuable member of the school community and everyone here will miss her very much," she added.
The school has taken a number of measures to help Ciara's friends cope with the tragedy including the opportunity to speak to counsellors.
St. Dominic's Choir will sing at Ciara's Requiem Mass tomorrow (Saturday) in the Church of Our Lady Queen of Peace, just yards from her home.
Dunmurry Councillor Matthew McDermott also expressed his sadness at the teenager's untimely death.
"My deepest sympathies are with Ciaras parents, her entire family circle and her many friends at this heartbreaking time" he said. "No words can express the sorrow felt in the Dunmurry area by the loss of this young life in such tragic circumstances.
"My thoughts are also with the bus driver as he comes to terms with this. A sokesperson for Translink extended the company's deepest sympathy to Ciara's family: "Our thoughts are also with the driver," he added.
Ciara's remains will be removed from her home tomorrow at 9.30am. Her Requiem Mass will begin at 10.00am and she will then be laid to rest in Belfast City Cemetery.
Councillor Paul Butler described Ciara's death as a 'devastating blow' for her family.
"I want to convey my deepest sympathy to Ciara's parents, brothers and sister. My deepest sympathy goes out to them at this time and they will be in our thoughts and prayers."