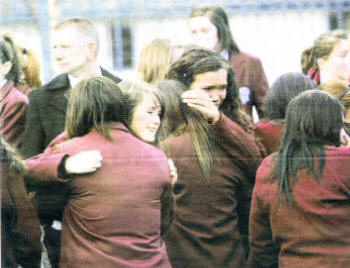 SCHOOL friends of the Dunmurry teenager who died after being knocked down by a bus in Belfast City Centre last Tuesday wept and hugged each other as they watched her coffin being taken from her Margaretta Park home to the nearby Church of Our Lady Queen of Peace on Saturday morning.
Pupils from St. Dominic's Grammar School formed a guard of honour as the funeral of Ciara Park who celebrated her 16th birthday just two months ago got underway.
As a mark of respect buses operating across Belfast stopped for one minute at 10.00am when her Requiem Mass began in the Stewartstown Road church.
Pupils from St. Dominic's sang at the service during which Father Brendan Hickland told mourners the teenager had left behind 'a wonderful example achieved in such a short span of life.
He said Ciara's parents Briege and Gerard and her siblings Clare, Gerard and Stephen were 'rightly proud of her.'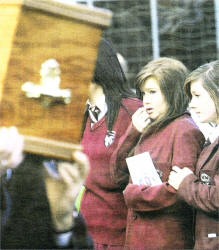 "Where parents usually worry about the safety of their children on or near main roads, a new and serious concern has surfaced for the dangers and difficulties facing both pedestrians and bus drivers in Belfast City Centre," Father Hickland continued.
It is a real and earnest hope of all people this concentrated focus will prevent any further accidents or deaths in our cities and communities so others will not have to endure the trauma and heartache Ciara's family and friends are now suffering."
When the Mass ended Ciara's funeral proceeded to Belfast City Cemetery where her remains were laid to rest.
An online book of condolence set up by her friends on the BEBO social networking site now contains around 1500 messages of sympathy.
Meanwhile, bus drivers Union Unite has urged Stormont Ministers to look at the operation of pedestrian zones in Belfast City Centre.
Ciara was hit by the bus and became trapped under the vehicle during last Tuesday's evening rush hour.
She had separated from her father and brother during a Christmas shopping trip to purchase a CD and arranged to meet them in Primark Bank Buildings.
The tragedy occurred as she crossed Royal Avenue outside the store and scores of people witnessed the frantic efforts to save her during which firecrews used airbags to raise the bus.
She was taken to the Royal Victoria Hospital where sadly she succumbed to her injuries.