by JULIE ANN SPENCE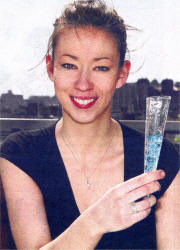 GLENAVY girl Claire McAlister was in sparkling form recently when she was placed in the top ten of the People's Prize category of the International final of the 2008 Bombay Sapphire Designer Glass Competition, which took place recently in London.
Claire's glass, 'In Suspense', was judged by an international panel of design experts at a gala ceremony at the Village Underground.
The talented young local designer competed on the global stage against 26 contestants from other countries in front of an audience of some of the international design community's most influential figures.
Claire, who is a graduate of the National College of Art and Design, was announced as the Irish winner of the competition in May, beating of stiff competition from a short-list of six entries after much deliberation from the panel judges.
"I'm both proud and delighted to have represented my country at such a prestigious competition," said Claire. "It was an honour to see my glass displayed as part of the London Design Festival. The other glasses were incredible, and it's great to see the competition providing a platform for emerging designers to make their mark."
Now in its sixth year, the competition's popularity with emerging designers continues to grow with more and more countries from around the world taking part. This year, 26 countries will be represented, including: Canada, China, Denmark, France, Germany, Hong Kong, Ireland, Italy, Japan, Malaysia, the UK and USA.
The martini cocktail glasses designed by the finalists will be showcased in Milan as part of an exhibition featuring the work of some of the world's most respected designers who have been inspired by Bombay Sapphire.